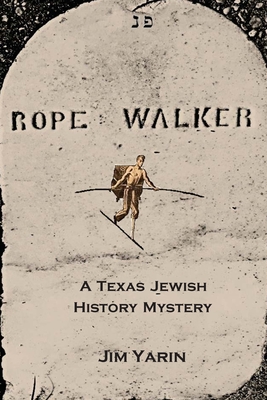 $20.00

NOT IN STOCK - Usually arrives in 7 - 14 business days
Description
---
It sounds like fiction, but it's not: in 1884, a tightrope walker with a wooden leg arrived in Corsicana, Texas. He attempted to carry a stove on his back as he crossed, he fell, and the stove landed on him, crushing him. Before he died he refused to give his name or disclose anything about his identity, except to say he was Jewish. His gravestone, in Corsicana's Hebrew cemetery, bears exactly two words: "ROPE WALKER." That's the legend.
Now, 137 years later, the man called Rope Walker is finally identified and the truth about the legend and the man revealed.
Both a microhistory and historiography, there is a close examination of the fall, a moment in history viewed from multiple angles; an anatomy of a legend; a Rashomon-type report of an actual historical event. The analysis is used in an attempt to solve the real-life mystery -- his name, undiscoverable for many generations. His identity is revealed in the middle of the book, proven with incontrovertible evidence. The true story of the "crippled acrobat," it turns out, is just as unusual as the long-standing legend. Sorry, no spoilers here The final chapters go beyond the legend, beyond newly discovered facts, and beyond the truth to find answers to lingering questions particular to the man and broader questions pertaining to the verification and accuracy of historical accounts.
Readers are transported to Corsicana during the Gilded Age and meet the real-life characters who made it their home, all tied somehow to Rope Walker. Many were members of Corsicana's once-thriving Jewish community: merchants and swindlers, bankers and gamblers, and everyone in between.
Three appendixes supplement the Rope Walker story, describing Corsicana's synagogues, rabbis, and early Jewish burials. This is not your Zayde's (grandfather's) local history
Rope Walker is supported with numerous endnotes, hundreds of graphics, subject and name indexes, and two maps. Epigraphs are from Moby Dick.
History enthusiasts and novices alike will find an unconventional narrative filled with numerous real-life characters, obscure historical documents, quirky anecdotes, songs, poetry, an occasional pun, and a few deeply philosophical questions about the meaning of life -- and death.
Readers will recognize parallels to The Lifespan of a Fact, Joe Gould's Teeth, and The Immortal Life of Henrietta Lacks, although here the author is not a part of the story. Unlike other long-existing history mysteries, this one solves the riddle and leaves no doubt of its accuracy.
An anomalous narrative nonfiction with appeal to diverse audiences, Rope Walker is:
A case study teaching critical thinking skills in a fun and interesting way. Even historical plaques need to be scrutinized for accuracy
A required read for fans of Texas history and Jewish history
An exemplar of research techniques for armchair historians, genealogy hobbyists, or anyone interested in how to tear down a 137-year-old research brick wall
A tombstone tourist's treasure with a focus on one very peculiar gravestone and an in-depth analysis of Corsicana's Hebrew cemetery.
Over sixty years ago, Frank X. Tolbert -- Dallas Morning News columnist, historian, chili aficionado -- described the Rope Walker mystery as an "almost incredible-sounding story." The truth is just as difficult to believe, but thanks to extensive documentation, Rope Walker: A Texas Jewish History Mystery proves once again that truth is stranger than fiction.