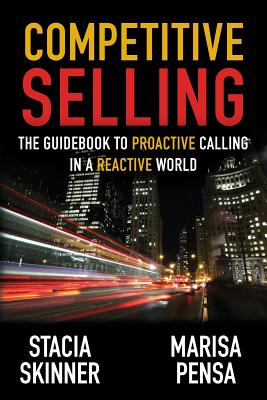 $15.95

NOT IN STOCK - Usually arrives in 7 - 14 business days
Description
---
Competitive Selling: The Guidebook to Proactive Calling in a Reactive World is about the toughness and edge you need to be successful in the highly competitive world of professional sales. But it doesn't just give you theories . . . it gives you tried and true techniques to follow to be a proactive caller, in very practical terms.

If you ever struggle with the actual words to say when you are prospecting, Competitive Selling will give you a solid foundation in the words to say and how to approach the call with confidence. Selling is filled with rejection, but if you expect the "No"s--and even welcome hearing them--you can be the one in control and work on turning around even the toughest potential clients. The louder the environment is for prospects and customers, the more highly skilled you need to be at quickly capturing their attention and following a set roadmap to the close of the sale.

Dive into Competitive Selling and become better than the competition at starting high in an organization, following up, leaving an intriguing voicemail message that results in a return call, gaining a critical "next set time," and using email as an effective touch point. Prospecting for new business is not glamorous, but if you have a solid plan and the drive to follow through on your goals, you will be successful. Marisa Pensa and Stacia Skinner will help you attain that success.