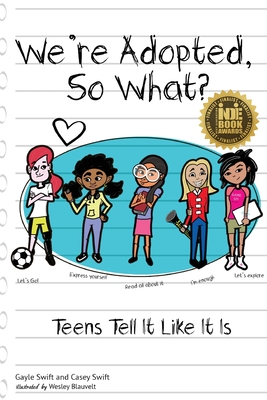 $15.99

NOT IN STOCK - Usually arrives in 7 - 14 business days
Description
---
Being a teenager is tough enough. When you factor in the complexities and challenges of being adopted, it is exponentially harder. The graphic-style book, "We're Adopted. So What?" features five teen girls who share a huge thing in common: each of them was adopted. This shared experience draws them together yet the distinctions between their experiences are as unique as their personalities. Feisty, fun and outspoken, the girls tackle some tough topics. They share their thoughts and feelings being adopted, how adoption shapes their world and relationships, creates challenges, burdens them with curiosity, frustration, anger, and grief, and shows how they strive to blend together their biological and their adoptive worlds.
Open adoption has become the norm for most contemporary domestic adoptions yet questions and complications remain for adoptees and their families. How can all these people cooperate to create healthy, supportive relationships that best support adoptees? How does a young adoptee balance their dual loyalties and connections? How do they weave the spectrum of their feelings, challenges, and experiences into a cohesive identity?
We now recognize that connection to and respect for an adopted child's biological roots is integral to an adoptee's ability to successfully unify their dual heritage. Still, the concept of openness remains shrouded in apprehension, confusion, and curiosity. How is it possible for a child to have two sets of parents involved in their lives? Against this backdrop of openness, how do teens in international or "traditional closed" adoptions, feel about and deal with their lack of connection with birth families?
This book overflows with practical suggestions for how to navigate the constantly changing seas that adoptees face. The influences of DNA are forever, just as the influence of the adoptive family's nurturing will permanently shape the child worlds. The process is complicated and can be difficult to articulate. This book provides a way to spark these important conversations with families or friends. It validates and renders compassionate witness to the adoptee experience.