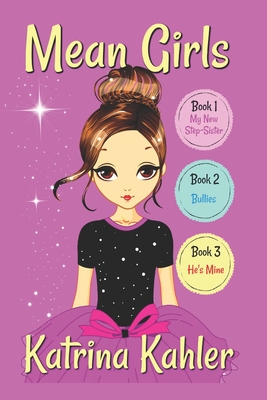 $20.64

NOT IN STOCK - Usually arrives in 7 - 14 business days
(Non-returnable)
Description
---
Dramatic 3 Book Set for girls aged 9-12. Book 1: My New Step-Sister is the story of Remmy, a 12-year-old girl who moves across the country with her mom to start a new life. Remmy is excited about having a step-sister...but Sandy feels differently. And when Remmy arrives, Sandy and her friends do their best to make Remmy feel isolated and sad. With the help of Amelia and Charlie (the cutest boy in the school), Remmy tries hard to stop the non-stop and cruel bullying.
In Book 2: Bullies...Remmy continues to suffer from Sandy and her 'vampires' mean bullying. Amelia comes to the rescue and teaches Remmy some strategies to cope with her tormentors. She wants to tell her mom what is going on, but Sandy has manipulated the home situation and Remmy feels that she can't burden her mom with her problems. The mean girls continue to harass her by setting her up on FB and they even plant something in her bag to get her into trouble. Eventually, Remmy can take no more and she tells her mom and new stepdad exactly what has been going on. To begin with...Marcus doesn't believe Remmy until he sees actual proof. Of course, Sandy's reaction is dramatic and totally over the top Girls will love this book Follow Remmy's journey as she battles to keep control of her life, fit in and win acceptance.
Book 3: He's Mine...Remmy's life has definitely improved since she became friends with Charlie and Bridget. But unfortunately for her...Sandy and her vampire friends haven't backed off bullying her. They attack her whenever they can Remmy continues to stay strong, but when they interfere with her friendship with Charlie, Remmy becomes distraught. Will Sandy win the day and take her boyfriend away from her?
There's only one way to find out - read this book. We know you'll love it.