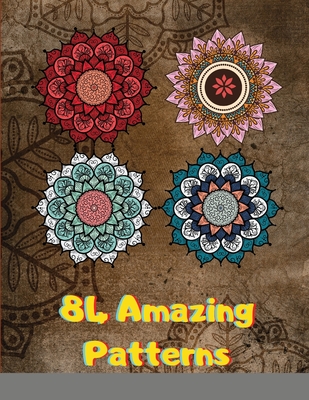 $8.99
Currently Out of Stock - No ETA
Description
---
Discover the Ultimate Collection of the World's Greatest Mandalas in this Amazing Coloring Book
Are you a massive fan of coloring mandalas? Do you want to sample from a collection of the most beautiful mandalas that the world has to offer? Then this is the book for you
Size 8.5x11
Specially crafted by Best-Selling brand of 84 illustrated masterpieces, Coloring Book Cafe, this incredible book gathers the most elegant and popular mandalas from their entire collection, offering a jaw-dropping range of 84 magnificent mandalas from around the globe.
Combining classic spiritual designs with mandalas which reflect the creativity of countless different cultures, inside you'll find an amazing selection of mandalas to rouse your imagination and help you color your next masterpiece.
Inside this collection, you'll discover:
Stained Glass Mandalas: a gorgeous selection of patterns with a classic stained-glass theme
Ethnic Mandalas: beautiful cultural designs including Aztec, Native American, African, Celtic, Inuit, Polynesian and more
Classic Mandalas: specially crafted to help you practice relaxation and experience mindfulness
Gemstone Mandalas: which combine relaxing patterns with vibrant emeralds, rubies, topaz, opal, and diamonds
And Greek Mandalas: exquisite mandalas reflecting the artistic taste of classical Greek pottery and architecture
Coloring is a scientifically-proven way of promoting feelings of calmness and tranquility. Whether you want to unwind from the day's stress, hone your artistic talent, or feel the benefits of meditative mindfulness, this coloring book is for you
Book details:
84 hand-drawn images exclusively designed to stimulate your artistic ambition
Separately printed sheets to prevent bleed-through and allow you to easily remove and frame your favorites
Suitable for markers, gel pens, colored pencils, fine-liners, and watercolors
An assortment of simple and intricate designs to accommodate every skill level
And hours upon hours of coloring enjoyment and meditative relaxation
So if you need the perfect way of relieving stress, or if you're hunting for an ideal gift for a coloring fan in your life, then you've come to the right place.
a
Scroll up and buy now to bring these mandalas to life