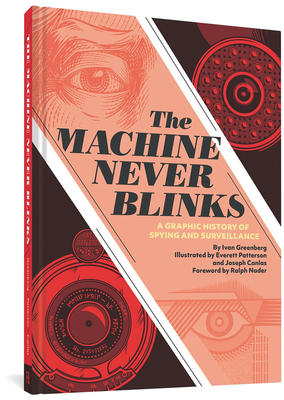 Description
---
This graphic history traces spying and surveillance from legends to the present.
In
The Machine Never Blinks
, the story of surveillance is presented from its earliest days, to help you more fully understand today's headlines about every-increasing, constant, and unrelenting monitoring and global data collection. It's a threat to your rights, privacy, dignity, and sanity. This book spans surveillance from the Trojan Horse, through 9/11 and to the so-called War on Terror, which enabled the exponential growth of government and corporate intercepts and databases. It also explains spying as entertainment (reality TV) and convenience (smart speakers). Take a look around... Who's watching you right now?
About the Author
---
Ivan Greenberg holds a Ph.D. in American history and has taught college-level classes. He lives in Washington, D.C.

Everett Patterson is an illustrator and storyboard artist living in Portland, Oregon.

Joe Canlas is a freelance illustrator and cartoonist from New Jersey. He graduated from the School of Visual Arts in New York City in 2017 with a BFA in Cartooning.
Praise For…
---
The Machine Never Blinks offers important insight into the world of surveillance, and validates the fact that it's not mere conspiracy theory to wonder where all of our data is going, and what it could, eventually, turn into.

— Bitch Media

A fascinating tour. Anyone who believes the fallacy that only those with something to hide object to government surveillance would greatly benefit from Greenberg's diligence.
— Slings & Arrows