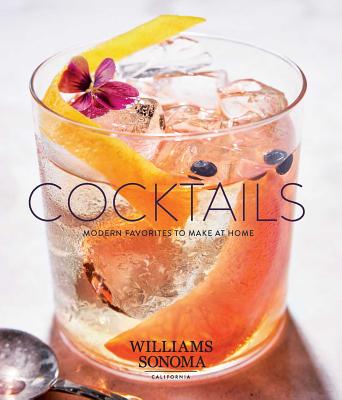 Description
---
Classic cocktails get a modern update with an infusion of fresh, seasonal, and modern ingredients. With an inspired mix of contemporary and traditional cocktails, and whether to serve them shaken or stirred, on the rocks or straight up, Cocktails offers a flavorful range of spirited beverage options.

Cocktails features 54 diverse recipes of contemporary cocktail classics with tips on how to stock a bar, garnishes, ice, glassware, hosting a cocktail party. Chapters include: Gin, Whiskey & Bourbon, Tequila, Vodka, Rum, Frozen, Basic Cocktails and Bar Snacks.

Beautifully photographed, this book also covers all the cocktail-making basics, from how to stock a bar, infusions, and garnishes, to serving guidelines, glassware, and hosting a cocktail party. In this compact yet comprehensive book from Williams Sonoma, you'll find a recipe for any occasion.

In Cocktails, you'll find recipes for Pineapple Orange Gin Rickey, Bee's Knees, Elderflower Rose Collins, Maple Sazerac, Blackberry Lemonade Whiskey Sour, Old Fashioned with Lemon, Orange and Vanilla, Coconut Cream and Lime Margarita, Ancho Reyes and Cucumber, Grapefruit Rosemary Moscow Mule, Peppermint White Russian, Gingerbread Dark & Stormy, Mango Mai Tai, Frozen Hard Pink Lemonade, Lemon Raspberry Sorbet Prosecco Float, Manhattan, Cosmo, Moscow Mule, Parmesan Twists, Fried Pickles, Devils on Horseback, and many more!
About the Author
---
Since its founding by Chuck Williams in 1956, the Williams Sonoma brand has been bringing people together around food. Williams Sonoma is a leading specialty retailer of high-quality products for the kitchen and home, providing world-class service and an engaging customer experience. The Williams Sonoma Test Kitchen spearheads the development of culinary content for the brand's catalog, website, blog, social media programs, cooking schools, and special events.