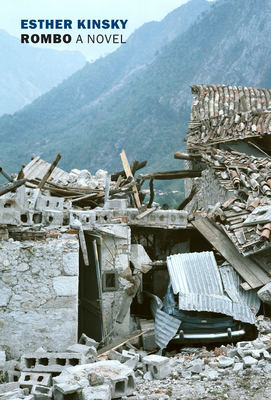 Description
---
Seven survivors of the 1976 Friuli earthquake in northeastern Italy, which left hundreds dead and thousands unhoused, speak of their lives after the catastrophe in this poignant, propulsive work of fiction by a noted poet, translator, and novelist.

Il rombo is an Italian term for the subterranean rumble before an earthquake. In May and September 1976, two severe earthquakes ripped through the Friuli region in northeastern Italy, causing extensive damage. About a thousand people died under the rubble, tens of thousands were left without shelter, and many ended up leaving their homes forever.

Rombo is a record of this disaster and its aftermath, as told by seven men and women who were children at the time: Anselmo, Mara, Olga, Gigi, Silvia, Lina, and Toni. They speak of portents that preceded the earthquakes and of the complete disorder that followed, the obliteration of all that was familiar and known by heart. Their memories, like the earth, are subject to rifts and abysses. Esther Kinsky splices these indelible, incomplete recollections with exacting descriptions of the alpine region, forgoing a linear narrative for a deftly layered collage that reaches back and forth in time. The brilliantly original book that emerges is both memorial and purgatorial mount.
About the Author
---
Esther Kinsky is the author of six volumes of poetry and four novels, most recently Grove, which won the 2018 Leipzig Book Fair Prize. A prolific translator, Kinsky has translated many notable English and Polish writers into German, including John Clare, Henry David Thoreau, and Olga Tokarczuk. Her novel River was longlisted for the German Book Prize in 2014.

Caroline Schmidt has translated poetry by Friederike Mayröcker, as well as art historical essays, museum catalogues, and exhibition texts for Albertina in Vienna and Pinakothek der Moderne in Munich, among others. She lives in Berlin.
Praise For…
---
"A lyrical, meticulous inquiry into the alchemy of memory." —Kirkus Reviews

"It reads cinematically; the cuts are determined and stylistic. . . .The book excels when it manages to balance the grand geology of its subject matter on the tiny gestures of daily life. . . . Rombo is staggering. There is something epic about it." —Magnus Rena, Review 31
 
"Kinsky expertly animates the natural world around her while removing her human hand. . . . If trauma is the inability to redescribe, Rombo offers a powerful antidote in language and the infinite possibilities of description." —Matthew Janny, Financial Times

"Esther Kinsky has more eyes than most; in her novel Rombo she evokes the entire life of an Italian village before, during, and after the two devastating earthquakes of 1976, but each plant and animal central to the village is also a character, and the most important character of all is the landscape itself. The book becomes as much about the futures as the past, for our natural disasters are increasingly man-made, and we need more than ever this reminder of universal impermanence and the marks of memory we leave in its wake." —Mary Ruefle

"A tragic travelogue to the underworld-turned-world that recasts a newly lost Italian past with a climate-wise chorus straight out of the most harrowing Greek drama." —Joshua Cohen

"In Esther Kinsky's new novel language becomes the highest form of compassion and solidarity — not only with us human beings, but with the whole world, organic, non-organic, speaking out with many mouths and living voices. A miracle of a book; should be shining when it gets dark." —Maria Stepanova