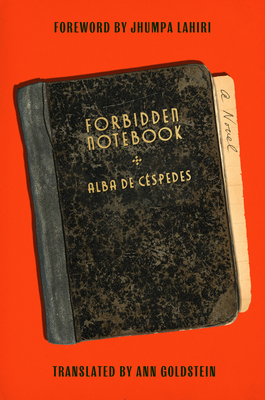 Description
---
"Forbidden Notebook promises a new cohort of readers, appetites whetted by the works of Elena Ferrante, Elsa Morante and Natalia Ginzburg. Translator Ann Goldstein has reinvigorated the text." —Joumana Khatib, The New York Times Book Review

"Published in Italy in 1952, this intimate, quietly subversive novel is told through the increasingly frantic secret diary entries of a woman named Valeria."—The New Yorker

"Reading Alba de Cespedes was, for me, like breaking into an unknown universe: social class, feelings, atmosphere." —Annie Ernaux, Nobel Prize laureate and author of The Years

With a foreword by Jhumpa Lahiri, Quaderno Proibito is a classic domestic novel by the Italian-Cuban feminist writer Alba de Céspedes, whose work inspired contemporary writers like Elena Ferrante.

In this modern translation by acclaimed Elena Ferrante translator Ann Goldstein, Forbidden Notebook centers the inner life of a dissatisfied housewife living in postwar Rome.

Valeria Cossati never suspected how unhappy she had become with the shabby gentility of her bourgeois life—until she begins to jot down her thoughts and feelings in a little black book she keeps hidden in a closet. This new secret activity leads her to scrutinize herself and her life more closely, and she soon realizes that her individuality is being stifled by her devotion and sense of duty toward her husband, daughter, and son. As the conflicts between parents and children, husband and wife, and friends and lovers intensify, what goes on behind the Cossatis' facade of middle-class respectability gradually comes to light, tearing the family's fragile fabric apart.

An exquisitely crafted portrayal of domestic life, Forbidden Notebook recognizes the universality of human aspirations.
About the Author
---
Alba de Céspedes (1911–1997) was a bestselling Cuban-Italian feminist writer greatly influenced by the cultural developments that led to and resulted from World War II. In 1935, she was jailed for her anti-fascist activities in Italy. Two of her novels were also banned—Nessuno Torna Indietro (1938) and La Fuga (1940). In 1943, she was again imprisoned for her assistance with Radio Partigiana in Bari, where she was a Resistance radio personality known as Clorinda. After the war, she moved to Paris, where she lived until her death in 1997.
Praise For…
---
"De Cespedes' work has lost none of its subversive force. . . . Forbidden Notebook promises a new cohort of readers, appetites whetted by the works of Elena Ferrante, Elsa Morante and Natalia Ginzburg. Goldstein, who has a particular skill for conveying the full power of a woman's emotional register, for locating an undertow of wrath or grief even in stated ambivalence, has reinvigorated the text."
—Joumana Khatib, The New York Times Book Review

"Published in Italy in 1952, this intimate, quietly subversive novel is told through the increasingly frantic secret diary entries of a woman named Valeria." —The New Yorker

"Over the course of six months [there] are reflections on motherhood and femininity in postwar Rome that were as urgent and revelatory in the 1950s, when the novel was originally published, as they are today in post-Roe America."
—Jenny Wu, The Millions

"Devastatingly good."
—Joy Castro, author of One Brilliant Flame

"Reading Alba de Cespedes was, for me, like breaking into an unknown universe: social class, feelings, atmosphere."
—Annie Ernaux, Nobel Prize laureate and author of The Years

"In her diary de Céspedes confides, "I will never be a great writer." Here I take her to task for not knowing something about herself—for she was a great writer, a subversive writer, a writer censored by fascists, a writer who refused to take part in literary prizes, a writer ahead of her time. In my view, she is one of Italy's most cosmopolitan, incendiary, insightful, and overlooked."
—Jhumpa Lahiri

"A fearlessly probing and candid look at marital dynamics and generational divisions, first published in Italy in 1952 . . . Goldstein's translation invigorates a remarkable story, one that remains intensely relevant across time, cultures, and continents."
—Publishers Weekly (starred review)

"De Céspedes deftly charts the widening gap between Valeria's increasingly desperate inner life and the roles she feels forced to play in a feminist novel that consistently calls into question the ways its narrator makes sense of her claustrophobic domestic world. A wrenching, sardonic depiction of a woman caught in a social trap."
—Kirkus (starred review)

"The absorbing and abidingly resonant confession of a woman's desire to do that most elusive thing: forge a self apart from her caring for others. Forbidden Notebook can also be read as an allegory of fascism, a post-Roe cautionary tale, and corroboration of the revelatory and exhilarating but also implosive power of honest words." 
—Lisa Halliday, bestselling author of Asymmetry

"The insights Valeria gains as she writes are as intoxicating as they are painful, because they make her aware -- for the first time -- of the constraints of her own existence; rigidly delineated by morality, social anxiety and self-denial. A secret missive from a past that is not over yet. Ruthless, perceptive, suspenseful."
—Judith Schalansky, author of An Inventory of Losses


"A quiet book that only unfurls its full rage over the course of time. The novel's progressiveness, perhaps even its scandalousness, lies in its offhandedness -- especially if you consider the time in which it was written. How writing can become an outlet for freedom... how it can do so, without one even realizing it -- this is what Alba de Céspedes reveals, in clear, unobtrusive language, allowing readers to marvel, in the reverberations of her sentences, at how topical this book still is to this day."
—Nino Haratischvili, author of The Eighth Life