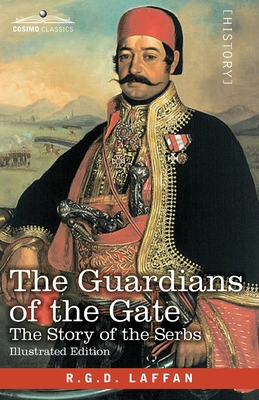 $25.64

NOT IN STOCK - Usually arrives in 7 - 14 business days
Description
---
"...The title, 'the Guardians of the Gate', is borrowed from a phrase applied to the Serbs... in particular by British Prime Minister] Mr. Lloyd George in his speech on August 8, 1917. It is a summary of the services which the Serbs have always done their best to render to Christendom: for their country is indeed, one of the gateways of civilized Europe..."
--R.G.D. Laffan, Preface, The Guardians of the Gate, 1918
The Guardians of the Gate--A Story of the Serbs (1918) was originally a series of lectures on Serbian history given by the British historian R.G.D. LAFFAN (1887-1972) to the British Army Service Corps, that was attached to the Serbian Army during World War I.
In its 1918 review, The American Historical Review described this book as "excellent and it evidences a deep sympathy and affection for the Serbian people... But it everywhere shows a scholarly desire to discover the views of Serbia's enemies and a fine restraint from condemning anything except on what amounts to practically positive proof. It is not a polemic, not even a plea for the Serbian cause. It was written to give enlightenment to English-speaking peoples about a race of whom they had hitherto heard only from unfriendly sources, from German and Magyar writers."
One hundred years after its publication, this book still offers indispensable reading for anyone interested in the history of the Serbs and a better understanding of a country that is not always appreciated in the West.