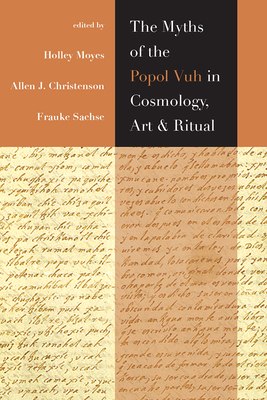 Description
---
This volume offers an integrated and comparative approach to the Popol Vuh, analyzing its myths to elucidate the ancient Maya past while using multiple lines of evidence to shed light on the text. Combining interpretations of the myths with analyses of archaeological, iconographic, epigraphic, ethnohistoric, ethnographic, and literary resources, the work demonstrates how Popol Vuh mythologies contribute to the analysis and interpretation of the ancient Maya past.
 
The chapters are grouped into four sections. The first section interprets the Highland Maya worldview through examination of the text, analyzing interdependence between deities and human beings as well as the textual and cosmological coherence of the Popol Vuh as a source. The second section analyzes the Precolumbian Maya archaeological record as it relates to the myths of the Popol Vuh, providing new interpretations of the use of space, architecture, burials, artifacts, and human remains found in Classic Maya caves. The third explores ancient Maya iconographic motifs, including those found in Classic Maya ceramic art; the nature of predatory birds; and the Hero Twins' deeds in the Popol Vuh. The final chapters address mythological continuities and change, reexamining past methodological approaches using the Popol Vuh as a resource for the interpretation of Classic Maya iconography and ancient Maya religion and mythology, connecting the myths of the Popol Vuh to iconography from Preclassic Izapa, and demonstrating how narratives from the Popol Vuh can illuminate mythologies from other parts of Mesoamerica.
 
The Myths of the Popol Vuh in Cosmology, Art, and Ritual is the first volume to bring together multiple perspectives and original interpretations of the Popol Vuh myths. It will be of interest not only to Mesoamericanists but also to art historians, archaeologists, ethnohistorians, iconographers, linguists, anthropologists, and scholars working in ritual studies, the history of religion, historic and Precolumbian literature and historic linguistics.
 
Contributors: Jaime J. Awe, Karen Bassie-Sweet, Oswaldo Chinchilla Mazariegos, Michael D. Coe, Iyaxel Cojtí Ren, Héctor Escobedo, Thomas H. Guderjan, Julia Guernsey, Christophe Helmke, Nicholas A. Hopkins, Barbara MacLeod, Jesper Nielsen, Colin Snider, Karl A. Taube
 
 
About the Author
---
Holley Moyes is professor of anthropology at the University of California, Merced, and author of Sacred Darkness: A Global Perspective on the Ritual Use of Caves, a Choice Outstanding Academic Title selection.

Allen J. Christenson is professor of Pre-Columbian studies at Brigham Young University and the author of Art and Society in a Highland Maya Community, a two-volume critical edition of the Popol Vuh, and The Burden of the Ancients.

Frauke Sachse is program director of Pre-Columbian Studies at the Dumbarton Oaks Research Library and Collection and coauthor of Maya Daykeeping: Three Calendars from Highland Guatemala.  
Praise For…
---
"This book brings together some of the very best scholars who have been working on the subject of Maya religion, all of whom are deeply familiar with the Popol Vuh. Their perspectives on this, a great Indigenous American scripture, vary in interesting and worthwhile ways. The transcendent ideas narrated in the Popol Vuh, these authors collectively show, stand not only with those of their compatriots in Mesoamerica but with religious experience as human sustenance and moral ground."
—David Freidel, Washington University in St. Louis