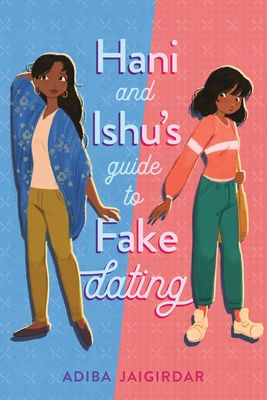 $17.99

NOT IN STOCK - Usually arrives in 7 - 14 business days
Staff Reviews
---
This book has such a special place in my heart because it features the first ever character in a book that I share a name with - Ishita. The sheer wonder of finally having a book in the world that features the tropes of a fake relationship but the twist of having it be between two queer Bengali girls is something that I never thought I would get to experience. Author Adiba Jaigirdar writes with such livelihood that the characters absolutely leap off the page. A brilliant YA contemporary romance in all sorts of ways!
— From
Ishita's All-Time Favorites
Description
---
Everyone likes Humaira "Hani" Khan—she's easy going and one of the most popular girls at school. But when she comes out to her friends as bisexual, they invalidate her identity, saying she can't be bi if she's only dated guys. Panicked, Hani blurts out that she's in a relationship…with a girl her friends absolutely hate—Ishita "Ishu" Dey. Ishu is the complete opposite of Hani. She's an academic overachiever who hopes that becoming head girl will set her on the right track for college. But Ishita agrees to help Hani, if Hani will help her become more popular so that she stands a chance of being elected head girl.

Despite their mutually beneficial pact, they start developing real feelings for each other. But relationships are complicated, and some people will do anything to stop two Bengali girls from achieving happily ever after.
About the Author
---
Adiba Jaigirdar is a Bangladeshi and Irish writer and teacher and the author of The Henna Wars, which Kirkus called "impossible to put down." She is also a contributor for Book Riot. She lives in Dublin, Ireland.
Praise For…
---
"Fans of fake dating, rejoice! I fell headlong into love with this book. A moving reminder that sometimes it takes a little pretending to discover what's most real." —PINTIP DUNN, New York Times bestselling author of the Forget Tomorrow series

"Charming, complex, and full of heart, the kind of book—the kind of characters—you just want to hug. Jaigirdar's voice is compelling, unique, and absolutely unforgettable." —ALECHIA DOW, author of The Sound of Stars

"This book gave me all the emotions, and I fell in love with Hani and Ishu's fake relationship. Adiba has the ability to portray not only romantic love, but also family and friendship love, in a remarkable story that'll stay with me for a long time." —LUCAS ROCHA, author of Where We Go From Here

"Hani and Ishu's Guide to Fake Dating is like the best kind of date: It will surprise you, make you laugh, and, most of all, leave you smiling from ear to ear." —ARVIN AHMADI, author of Down and Across and Girl Gone Viral

"The representation we need with the romance we love - a pure delight!" —NISHA SHARMA, author of My So-Called Bollywood Life