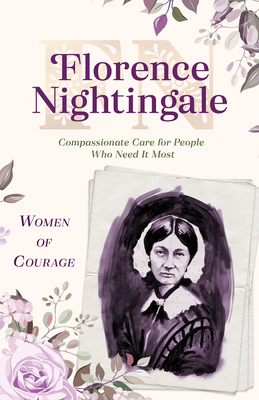 $10.99
Out of Stock Indefinitely
Description
---
They're bold. They're fearless. They're adventurous. They have a faith that can move mountains. They're women of courage.

This series of easy-read biographies celebrates the lives of women who lived lives committed to changing the world for better. What set them apart? The willingness to live courageously for Christ, even in the midst of impossible situations.
 
In Florence Nightingale, you'll meet "The Lady with the Lamp" who found her calling in the foul, disease-ridden medical camps of the nineteenth century British military. What set Florence Nightingale apart? Her willingness to live courageously for Christ—comforting wounded soldiers, fighting for their rights, and turning the medical world upside down by serving people who needed it most.
 
Get inspired by her story, celebrate her legacy, and learn that God can use each of us for mighty things. . .if we have courage.
 
About the Author
---
Barbour Publishing is a leading Christian book publisher offering bestselling books featuring exceptional value, biblical encouragement, and the highest quality. Barbour is the home of New York Times Bestselling author Wanda E. Brunstetter along with well-known fiction authors Gilbert Morris, Olivia Newport, Michelle Griep and many others. If your interest is Christian Living or Bible Reference, you'll find excellent titles by bestselling authors Josh McDowell, Jonathan McKee, Debora Coty, and Stephen M. Miller's The Complete Guide to the Bible.   Barbour also publishes the top classic devotionals God Calling by A.J. Russell, and Come Away My Beloved by Frances J. Roberts. With inspirational Christian books available in all genres--fiction for adults and children, Bible Promise books, devotionals, Bibles, Bible reference, puzzle books, and gift books there's something for everyone to enjoy.