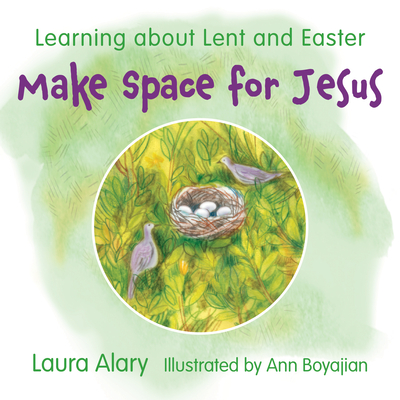 $11.99

NOT IN STOCK - Usually arrives in 7 - 14 business days
Description
---
Invite little children to learn about Lent and Easter in this gentle and engaging board book that encourages generosity and compassion. 
Laura Alary, bestselling author of Make Room: A Child's Guide to Lent and Easter, presents a simple board book for the youngest readers to experience the story of Jesus at this important time of year. With simple text and soft, watercolor illustrations, Make Space for Jesus teaches young children about Jesus' way of compassion, welcome, and generosity, and suggests little ways that we can make room in our hearts for others, like smiling and saying hello. This reassuring little book makes it clear that sadness is not the end of the story, but gives way to joy and new life.  
Make Space for Jesus: 
Tells the Lent and Easter story to young readers in a thoughtful, accessible way  

Helps families who want to experience the liturgical rhythms of the church year  

Explains why the church is dressed in purple, and what Holy Week is about 

Helps kids think deeper about how to follow Jesus' example of love 
Provides a thoughtful alternative to the more consumeristic messages surrounding Easter 

Makes a great gift for curious toddlers and boys and girls ages 1-5 years old, to read together at home or bring to church 
Make Space for Jesus will be a welcome addition to every child's library, to lay a foundation for their lifelong spiritual journey.  
About the Author
---
Laura Alary is a writer, storyteller, and religious educator. When she was a little girl she used to make her own books out of manila paper, crayons, and mucilage. These early efforts at writing eventually gave way to academic papers and theses, as she earned degrees in Classics (B.A., Dalhousie), Theology (M.Div., Knox College, University of Toronto) and New Testament (Ph.D., University of St. Michael's College). More recently, Laura has focused on a new type of education—raising three creative and curious children. She leads workshops on everything from storytelling to biblical interpretation, teaches the occasional university course, and works with children at a local congregation. She has also returned to her early love of creating her own books, including Is That Story True? and Mira and the Big Story. Laura lives in Toronto, Canada.

Ann Boyajian is the illustrator of many books, including Samantha's Friendship Fun (in the American Girl series), More Spice Than Sugar (Houghton Mifflin), and O Say Can You See? American's Symbols, Landmarks, and Inspiring Words (Scholastic).