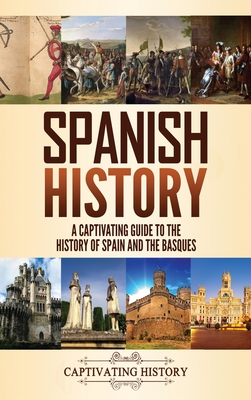 $29.99

NOT IN STOCK - Usually arrives in 7 - 14 business days
Description
---
If you want to discover the captivating history of Spanish, then keep reading...
Two captivating manuscripts in one book:
History of Spain: A Captivating Guide to Spanish History, Starting from Roman Hispania through the Visigoths, the Spanish Empire, the Bourbons, and the War of Spanish Independence to the Present
The Basques: A Captivating Guide to the History of the Basque Country, Starting from Prehistory through Roman Rule and the Middle Ages to the Present
Throughout the centuries, Spain has been subject to the lordship of other countries. It was occupied by the ancient Greeks and Romans, the Visigoths, the French, and the Muslims. It has been the playground of both the respectful and the ruthless. The Spanish coasts have been occupied by the trading empires of Carthage and Rome. All that time, Spain was told by others how to run their country, how to fight, whom to fight, and where to fight. They had one of the largest empires in the world-something history barely mentions-as they had acres of land in both North and South America, the Caribbean, Mesoamerica, and some islands in the Mediterranean. Evidence of Spanish architecture dots the world.
Yet Spain was also a battlefield for countries fighting for other causes. They were sucked into wars fought by the Carthaginians, Romans, Moors, Visigoths, British, French, Portuguese, Dutch, and Austrians, just to name a few. Some of the most famous men in history traversed Spanish soil, including Hannibal Barca, Julius Caesar, Augustus, Pompey, Hadrian, Vespasian, Trajan, Marcus Aurelius, and Napoleon. Four Roman emperors were born there, and Augustus Caesar spent his vacations there. Pablo Picasso was born in Spain, while El Greco moved there.
This book will examine the highs and lows of Spanish history and will hopefully pique your interest in learning more about it.
Here are just some of the topics covered in part 1 of this book:
Prehistory
The First and Second Punic Wars
Rome Entrenching
Roman Hispania
Enter the Germanic Tribes and the Muslims
The Transformation of Spain
The Struggling Spanish Empire
Bourbon Spain
War of the Third Coalition, 1803-1806
Aftermath
Rocky Road to Freedom
And much, much more
Here are just some of the topics covered in part 2 of this book:
The Mystery of the Mountain People
The Ancient Mystery Unravels
The Basques under the Roman Empire
Rule under Dukes, Counts, and Kings
The Middle Ages
The Late Middle Ages
The Modern Period
Economy
The Twentieth Century
Basque Terrorism
The Basque Country Today
And much, much more
So if you want to learn more about history of Spain and the Basques, scroll up and click the "add to cart" button