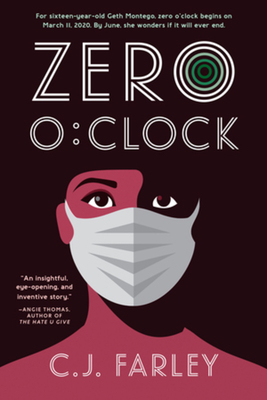 $39.95

NOT IN STOCK - Usually arrives in 7 - 14 business days
Description
---
For sixteen-year-old Geth Montego, zero o'clock begins on March 11, 2020. By June, she wonders if it will ever end.
In early March 2020 in New Rochelle, New York, teenager Geth Montego is fumbling with the present and uncertain about her future. She only has three friends: her best friend Tovah, who's been acting weird ever since they started applying to college; Diego, who she wants to ask to prom; and the K-pop band BTS, because the group always seems to be there for her when she needs them (at least in her head).
She could use some help now. Geth's small city becomes one of the first COVID-19 containment zones in the US. As her community is upended by the virus and stirred up by the growing Black Lives Matter protests, Geth faces a choice and a question: Is she willing to risk everything to fight for her beliefs? And if so, what exactly does she believe in? C.J. Farley captures a moment in spring 2020 no teenager will ever forget. It sucks watching the world fall apart. But sometimes you have to start from zero.
About the Author
---
C.J. FARLEY was born in Kingston, Jamaica, and lives in New Rochelle, NY. A graduate of Harvard University, Farley is the author of the acclaimed fantasy adventure novel Game World and the best-selling biography Aaliyah: More Than a Woman, which was adapted into a hit Lifetime movie. Farley's young adult novel Around Harvard Square won an NAACP Image Award and was named a 2020 Honor Book by the Paterson Prize for Books for Young People.