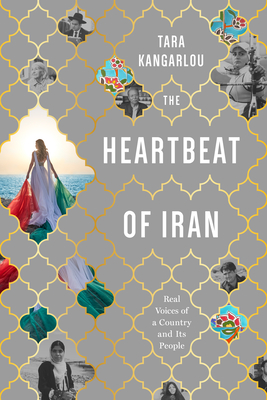 $19.95

NOT IN STOCK - Usually arrives in 7 - 14 business days
Description
---
"Here are tender, lyrical, colorful stories of an Iran that Americans do not know and have no way of discovering directly. Tara Kangarlou has created a work of people-to-people diplomacy, using her words to paint pictures of a very different country than the harsh, angry land depicted in the news. If only Iranians could read a similar account of the Heartbeat of the United States "―Anne-Marie Slaughter, CEO, New America
"With all of the talk about Iran, we hear far too little about the stories of the Iranian people themselves. The Heartbeat of Iran gives us the individual stories of Iranians - an illuminating and powerful portrait of a people who have been so often mischaracterized, and whose voices deserve to be heard."―Ben Rhodes, author of The World as It Is: A Memoir of the Obama White House
"In no other time in history has there been such need for building bridges and closing the divides. Tara Kangarlou's Heartbeat Of Iran takes us to a country that has long been isolated and enables us to see Iran through its heart and soul -- its people."―Margot Wallstr m, former Foreign Minister Of Sweden
"Tara Kangarlou's The Heartbeat Of Iran is an impressive, unique, and much needed addition to the compendium of literature on Iran. Using the personal stories of ordinary individuals, she brings to life the Iranian people--a people much misunderstood (and even maligned) in the west--and allows them their own voice in showing us what makes them who they are."―Hooman Majd, author of The Ayatollah Begs to Differ
In today's interconnected global village, Iran remains a mystery to much of the rest of the world--especially to those living in the United States and the west. While the country is often synonymous with rogue behavior on the world stage, there is also another, rarely seen side to this nation of 80 million, including being home to the greatest number of Jews in the Middle East outside of Israel, and having the largest transsexual population in the region, among other unexpected surprises.
The Heartbeat of Iran takes us on a journey into everyday life in Iran, where we meet the diverse people who make up the country's delicate socio-cultural, political, and religious mosaic. Through textured portraits of regular Iranians--from a blind Sunni environmental activist to the gay son of a general, from Iran's first female race car driver to a young rabbi who is training the future generation of Jewish rabbis in Israel's enemy state--The Heartbeat of Iran reveals a people whose dreams and fears mirror that of millions of others worldwide, and who yearn to join an international community that often views them through the blur of a hostile political fog.
About the Author
---
Tara Kangarlou is an award-winning American journalist and writer who has reported, written, and produced breaking news, investigative pieces, and broadcast stories for NBC-LA, CNN, and Al Jazeera America. Her writing and reporting has also appeared in news outlets such as TIME, Vanity Fair, The Huffington Post, and Al Monitor. She previously served as a fellow at the East West Institute and is a frequent news contributor on various international news outlets covering the MENA region, foreign affairs, and humanitarian issues. Kangarlou's expertise ranges from covering global conflicts and the Middle East to international and cultural affairs. While at CNN, Kangarlou was involved in covering major domestic and international news stories such as President Obama's 2013 Inauguration, the Boston marathon bombings, and the 2014 Russia-Ukraine crisis. In 2015, she led Al Jazeera America's team from inside Iran during the historic nuclear negotiations. Kangarlou has also reported from Cox's Bazar, Bangladesh--the world's largest refugee camp--covering the ethnic cleansing of Rohingya Muslims fleeing from Myanmar. She has also interviewed many global leaders, heads of states, and senior government officials in the US and around the world. In recent years she has spent much time in the Syrian border regions of Lebanon, Turkey and Jordan reporting and covering issues that impact Syrian refugees, host countries, and the Middle East at large. In 2016, she founded Art Of Hope, the first American nonprofit strictly focused on supporting the mental health and psychosocial needs of war-torn refugees in Lebanon. In 2017, Kangarlou was a keynote speaker at the first International Summit For Syrian Education in Istanbul where she addressed global leaders on the harrowing challenges faced by Syrians and other refugee children worldwide. In 2018 she was the recipient of the Ted Sorensen Award from Network 20/20 for her impact journalism and humanitarian work. Kangarlou was born and raised in Tehran, Iran; and is fully bilingual in English and Farsi. She received her BA from UCLA in Literature and her MA in Journalism from USC.