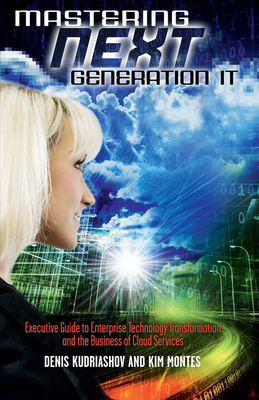 $44.33
Email or call for price
Description
---
By offering readers a groundbreaking analysis of virtual computing technology and its effect on business processes, Denis Kudriashov and Kim Montes' book Mastering Next Generation IT is now the go-to reference for business owners and managers to expand their understanding and use of cloud computing.

If you are a business owner or a manger who is thinking of changing your computing business options, Kudriashov and Montes have compiled an invaluable resource to both educate and entertain. The concept of exploiting available cloud-based services and delivering those services to your customers is enormously important in determining the success of your platform. Whether using Software as a Service (SaaS), Platform as a Service (PaaS), and Infrastructure as a Service (Iaas),  Kudriashov and Montes use real companies and their strategies as an example of what makes it work, allowing the reader to make an informed decision of what will, in turn, work for them. Mastering Next Generation IT ultimately builds a business case for cloud computing and expertly explains how to go about it.
About the Author
---
Denis Kudriashov has vast experience in helping Fortune 500 and small corporations deliver growth and excellence through connecting with customers and locating untapped supply sources. He is a specialist in managing trading partner relations, providing significant business development strategy, dispute resolution, mentorship and market intelligence services for the senior leadership along with tools to monitor market strategies as conditions change.

Denis holds an MBA from Western New England University, as well as post-graduate and executive certifications from Tufts University, The Fletcher School of Law and Diplomacy in International Relations, Strategy and Innovation from MIT Sloan School of Management, and Corporate Power and Politics from NYU Stern School of Management.

As founder and senior consultant at Thrive Communications, LLC, Kim Montes blends a background in marketing and communications, project management, and business strategy to design effective change communication programs for global organizations. Kim partners with cloud services providers and clients, using a collaborative and engaging approach to increase adoption by making new technology interesting and accessible.

Kim has earned a BS in Journalism and Mass Communications from the William Allen White School of Journalism at the University of Kansas and holds an MBA from the University of Houston-Victoria. Kim is also a certified Project Management Professional and enjoys leading the people side of technology initiatives.