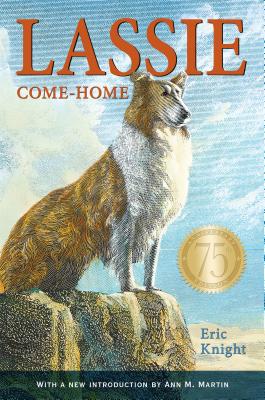 $21.99
Out of Stock Indefinitely
Description
---
Lassie is Joe's prize collie and constant companion. But when Joe's father loses his job, Lassie must be sold. Three times she escapes from her new owner, and three times she returns home to Joe, until finally she is taken to the remotest part of Scotland—too far a journey for any dog to make alone.

But Lassie is not just any dog.

First published in 1940, Lassie Come-Home has become one of the best-loved dog stories in the world. This beautiful 75th anniversary edition showcases the original text and illustrations with a striking new jacket design and a new introduction from bestselling author Ann M. Martin.
About the Author
---
Eric Knight was born in 1897 in Yorkshire, England, the countryside that was the background for Lassie Come-Home. He moved to the United States as a teenager. After graduating from Cambridge Latin School in Massachusetts, Mr. Knight married and settled on a farm in Pennsylvania, where Lassie Come-Home was written and where the collie who inspired the book is buried. Mr. Knight was killed while serving in the U.S. Army during World War II.

Marguerite Kirmse (1885-1954) was a British-born artist who emigrated to the United States. She was known for her etchings, particularly of dogs, and she illustrated books including Eric Knight's Lassie Come-Home and her own Dogs in the Field.

Ann M. Martin is the New York Times-bestselling author of Rain Reign and many other award-winning novels and series, including the much-loved Baby-Sitters Club. She lives in upstate New York.
Praise For…
---
"This story of a boy and his beloved collie has been retold in many formats but appears here in its original unabridged version, with Marguerite Kirmse's charming b&w interior illustrations and new jacket art." —Publishers Weekly