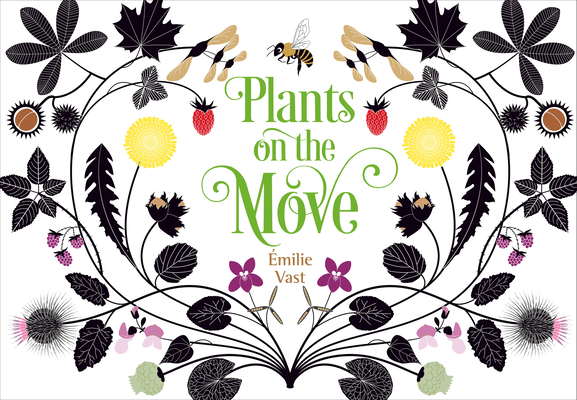 $18.99

NOT IN STOCK - Usually arrives in 7 - 14 business days
Description
---
A gorgeous, lyrical exploration of how seeds travel from plant to plant, take root, and grow.


When you think of a plant, you don't think of how it moves. But the feathery seeds of the dandelion fly to other gardens, strawberry tendrils creep, and maple seeds spin. There are many different ways plants move, not only as they grow, but in their quest to reproduce: falling, clinging, floating, burrowing--even exploding!

Fourteen plant journeys are chronicled, but more than sixty species are highlighed in Émilie Vast's fantastic and unique art style. Learn the scientific names for the different ways plants move.
About the Author
---
Illustrator, author and visual artist Émilie Vast plays with pure lines, solid color and contrast. Inspired by the graphic arts of the past, in love with nature, she stages plants and animals, like so many characters coming to tell their stories in stylized illustrations, sweet and poetic. Émilie lives and works in Reims, in the north of France.
Praise For…
---
Ten ways that plants move are described with detailed silhouette art and a moderate amount of text.
The graphic art stands out beautifully within thin black frames against stark white pages. Bold green lettering and an appropriate plant image decorate each single-page chapter heading. The short chapters begin with a plant introducing itself by its common name. Sometimes a plant also addresses readers directly, as with the strawberry: "You know me well, and you love to eat my sweet, red fruit." However, most of the plants' supposed narrations move quickly into scientific explanations, including simple definitions of terms such as calyx, pollination, and samara. (Further definitions occur in the backmatter.) There is enough information contained here that the book will benefit from reading over multiple sittings. It excels as a reference book, especially since the graphic art is so clearly detailed that reluctant or beginning readers will be able to learn a great deal from the illustrations alone. The sequence about plant seeds traveling by animal excrement is amazingly graceful, informative, and subtle—in both words and art. Similarly, clear sequences of frames show such things as a winsome fox carrying and dropping a burr and a water lily's fruit developing and decomposing. Groupings of 24 cultivated plants by place of origin—albeit stated as incomplete—jar with the omissions of Africa, North America, and Oceania. The few examples of human skin are light-complexioned.
Leaf and learn.
—Kirkus Reviews

Even young children understand that seeds grow into new plants, but how do seeds reach the soil they need? Accompanied by crisp, stylized artwork set against a contrasting white background, this informational picture book, originally from France, introduces several ways that seeds disperse. The succinct, descriptive text is divided into sections according to the seed movement (e.g., flying, clinging, or being eaten). Each section, in turn, opens with a single or a few representative plants that explain the physical characteristics of themselves and their seeds in a first-person narrative before explaining the benefits of their seed dispersal process. A maple tree, for example, describes the "light, delicate wings" of its seeds that dry up in the fall into "little helicopters," detach, and spiral down to the ground. A double-page spread at the end of each section offers a beautiful, visual summary of other plants that rely on the same method for their seeds. Pair with Robin Page's Seeds Move! (2019) for another look at plants on the go.
—Booklist


Vast profiles five different ways plants "move" their seeds, shoots, and fruit to new locations as part of their reproductive cycles. Seeds from dandelions and trees "fly away" or "fall"; the tendrils of strawberries "creep" across the ground; and animals transport burdocks that "cling" to their fur and berries that "get eaten" by birds and mice. The relocations are revealed across a mix of panel series and full-page illustrations, starting with the seeds attached to their parent plants, then moving step-by-step toward their final destinations. The clever graphic design employs the same purple hue throughout for the parts of the plants that don't move, providing silhouette-like outlines of leaves and stems. In contrast, the parts that move are shown in contrasting hues that make them easy to see as they fly through the air or travel through the digestive systems of the animals that disseminate them. Each of the five sections ends on a page filled with examples of other plants that employ the same movement.
—The Horn Book Guide