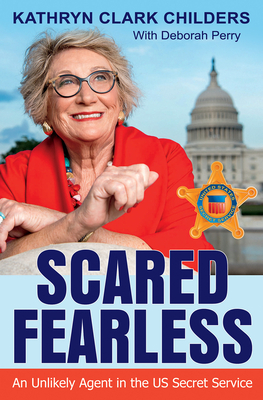 Description
---
The era: the 1970s. The location: an airplane en route to Washington, DC. Kathryn Clark Childers chats with a fellow passenger.
"Are you visiting?" her seatmate asked.
"No, I work there," Childers said, pointing out the window to the White House, which had just come into view. "I'm a Secret Service agent."         
"Really? I didn't know they let girls pull that duty. I'm not really sure what you do."
"It's a secret."
Recruited to the Secret Service as one of its first five female agents, Childers would surprise many people, including herself. Her duties included undercover work, protective details for John and Caroline Kennedy, children of Jacqueline Kennedy, and attending state dinners where she met world leaders, including Prince Juan Carlos of Spain. In addition, she had to figure out how to disguise the .357 Magnum revolver that she carried at all times, whether wearing jogging clothes, a business suit, or an evening gown. It was 1970, and the Secret Service, like most public and private organizations, struggled—sometimes unsuccessfully—with the challenges of incorporating a rising tide of women into government service and other professional workplaces. 
Written in a lighthearted but highly informative style, Scared Fearless details the obstacles and the joys, the moments of high adventure, and the laughable fashion dilemmas that were part of Childers' groundbreaking role. Through everything that happened, Childers says, she followed her father's admonition: "Just do it scared."
About the Author
---
KATHRYN CLARK CHILDERS was one of the first five women hired by the US Secret Service in 1970. Since leaving the Service and moving to the Corpus Christi area in 1973, she has been a television producer, broadcaster, and talk show host. A professional speaker, she has been a featured presenter for organizations nationwide.

DEBORAH HICKMAN PERRY has more than 25 years of experience in marketing, public relations, social media, and writing. She lives in the Portland, Oregon, metro area.
Praise For…
---
"Rumor has it Kathryn was born during an earthquake. She certainly rocked history as one of 'The First Five'. Humor, intelligence, tenacity and hard work paid off as she was thrown into a man's world of the US Secret Service during the chaotic 70's, thus paving the way for the hundreds of female agents who came after her."—Sue Ann Baker, author of Behind the Shades: A Female Secret Service Agent's True Story
— Sue Ann Baker

"They were pioneers who blazed the trail for the hundreds of female agents that followed, and they continue to be essential to the Secret Service. Kathryn is an example as to why I am so proud of the females we employed and the tremendous value they added." —Clint Hill, assistant director, US Secret Service (retired), from the foreword
— Clint Hill

"Kathy and I worked some 'out of the ordinary but grand' assignments together during her time in Secret Service. We have completely different personalities and completely different backgrounds. Kathy loved the protection details and I loved the undercover and criminal investigations, however, we accomplished both with success. . . sometimes with a lot of sweat and tears. We made a great team. Kathy has the gift of taking an ordinary or mundane event and making it something special. Each of the first five female special agents had diverse backgrounds and experiences and Kathy presents one of these stories in the memories that she has highlighted in this book." — Phyllis Shantz, one of the first five female Secret Service agents
— Phyllis Shantz