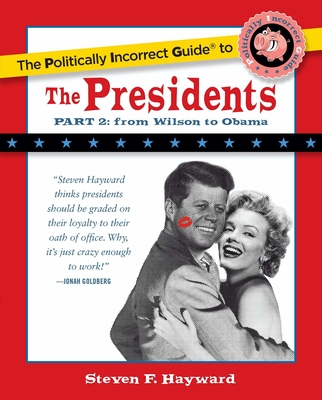 Description
---
"Steven Hayward thinks presidents should be graded on their loyalty to their oath of office. Why, it's just crazy enough to work!"
--Jonah Goldberg

Government scholar Steven Hayward is ready to debunk some of the biggest presidential myths Americans believe are facts.

In Politically Incorrect Guide to the Presidents, Part 2, he traces the legacy of each president from Wilson to Obama and along the way reveals truths most Americans never heard.

JFK was assassinated by a Communist. FDR had the right to run against Hoover. Wilson openly criticized the Constitution. And the 2000 election did, in fact, reach the correct outcome. Uncover new revelations about each President and prepare yourself for an unvarnished look at the truth.
About the Author
---
Steven F. Hayward is an American author, political commentator, and policy scholar, who argues for libertarian and conservative viewpoints in his writings.Hayward is F. K. Weyerhaeuser Fellow at the American Enterprise Institute and Senior Fellow at the Pacific Research Institute.