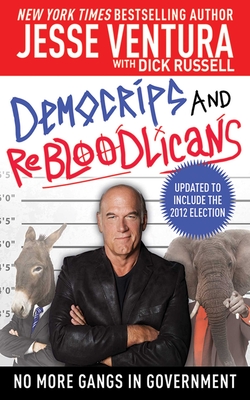 $16.45
Out of Stock Indefinitely
Description
---
DemoCRIPS and ReBLOODlicans uncovers the truth about how corporations have bought the American electoral and legislative process through the power of lobbyists, campaign contributions and political action committees. Covering historical details such as the development of the two-party system and the advent of third-party candidates throughout US history, DemoCRIPS and ReBLOODlicans exposes how the two-major parties, acting like a gang-land cabal, have allowed corporations, businesses and politically-motivated wealthy individuals to manipulate elections, bribe elected officials and, in short, silence the average American voter.

Exposing the ineptitude of both parties at insuring the integrity and vitality of American democracy, Jesse Ventura advocates the replacement of the two-party system for a no party system based on the ideals of our Founding Fathers. As election time rolls around, this is most certainly the book that should be looked at for reforming our electorate system. The knowledge and research that have gone into DemoCRIPS and ReBLOODlicans is unmatched, and if there was to be change, this is most certainly where it should start!
About the Author
---
Jesse Ventura is the former independent governor of Minnesota. He is also a former US Navy frogman, a professional wrestler, a movie actor, a visiting fellow at Harvard Kennedy School of Government, and the New York Times bestselling author of seven books, including American Conspiracies, 63 Documents the Government Doesn't Want You to Read, and Don't Start the Revolution Without Me! He was the host and executive producer of truTV's Conspiracy Theory with Jesse Ventura, which won the Stony Award from High Times magazine in 2010. He was also the host of the political talk show Off The Grid, which aired on RT America and online at Ora.tv. He has a reputation as a rebel and a freethinker, and he has no qualms about questioning authority. He spends half the year in Baja, Mexico and the other half in his home state of Minnesota.

Skyhorse Publishing and our Sports Publishing imprint is proud to publish a range of books for readers interested in sports—baseball, pro football, college football, pro basketball, college basketball, hockey, soccer, and more, we have a book about your sport or your team. Whether you are a New York Yankees fan or hail from Red Sox nation; whether you are a die-hard Green Bay Packers or Dallas Cowboys fan; whether you root for the Kentucky Wildcats, Louisville Cardinals, UCLA Bruins, or Kansas Jayhawks; whether you route for the Boston Bruins, Toronto Maple Leafs, Montreal Canadiens, or Los Angeles Kings; we have a book for you. While not every title we publish becomes a New York Times bestseller or a national bestseller, we are committed to publishing books on subjects that are sometimes overlooked by other publishers and to authors whose work might not otherwise find a home.