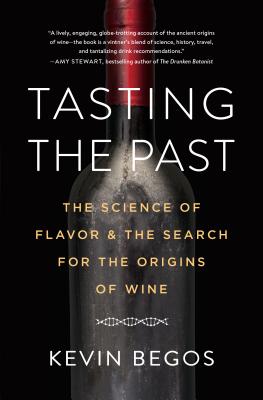 Description
---
"A vintner's blend of science, history, travel, and tantalizing drink recommendations." --Amy Stewart, author of The Drunken Botanist

In search of a mysterious wine he once tasted in a hotel room minibar, journalist Kevin Begos travels along the original wine routes—from the Caucasus Mountains, where wine grapes were first domesticated eight thousand years ago, crossing the Mediterranean to Europe, and then America—and unearths a whole world of forgotten grapes, each with distinctive tastes and aromas. We meet the scientists who are decoding the DNA of wine grapes, and the historians who are searching for ancient vineyards and the flavors cultivated there. Begos discovers wines that go far beyond the bottles of Chardonnay and Merlot found in most stores and restaurants, and he offers suggestions for wines that are at once ancient and new.
About the Author
---
Kevin Begos is a former MIT Knight Science Journalism Fellow and a former AP correspondent whose stories and research have appeared in major newspapers and other publications, including Scientific American, Harper's, Salon, the Christian Science Monitor, the Guild of Sommeliers, USA Today, and the New York Times.
Praise For…
---
An Amazon Best of the Month June 2018: Cookbooks and History

"This is quite a book, and I hope it is read widely throughout the wine world and that it has a huge impact. The fact that current practices have put a halt to evolution for wine grapes, that was news to me. Tasting the Past shocked the hell out of me."   
—Kermit Lynch, wine merchant and author of Adventures on the Wine Route

"Lively and instructive . . . We experience his discoveries on the wine side roads as freshly as he does."
—The Wall Street Journal

"Nothing less than the exact book the wine world needs right now."
—Toronto Star

"In Tasting the Past, journalist Kevin Begos takes readers along on a journey to find the historical origins of wine. His story unfolds in a manner similar to the growth of ancient grapevines; rooted in a strong central narrative, side stories grow like tendrils, wrapping around and supporting each other, while clusters of vividly described wines emerge like ripe grapes. Anyone who is interested in wine history, viniculture, or just enjoying a glass of wine will likely find Tasting the Past a pleasurable read."
—Science
 
"If you can tell Sauvignon blanc from Sémillon, you might feel that you 'know' wine. Science journalist Kevin Begos blows that idea to smithereens. He travelled from the Caucasus Mountains to Israel and beyond, and riffled through archives, to unearth ancient 'founder' grape varieties. En route, he consults archaeobiologist Patrick McGovern and grape geneticist Shivi Drori; reads papers on the DNA of 'wild yeasts that live symbiotically with wasps'; and contemplates the oldest grape fossil found. A book that froths with data on half-forgotten vines, from Hamdani to Gros Manseng."
—Nature

"A fascinating dive into history."
—Spirited Magazine

"[Begos] consults fascinating characters, including a biomolecular archaeologist, master sommeliers, and vintners striving to save their local culture by producing traditional wines from days gone by. As Begos continues his search, it becomes clear to him, as well as to readers, that getting to know wine-producing regions' people, cultures, and history is integral to truly understanding what they've produced—and are yet to."
—Becca Smith for Booklist

"With a cast of characters that includes archeologists, botanists and historians, Kevin Begos offers a lively account of his journey to find the origins of wine, debunking a number of the wine world's long-held beliefs along the way."
—PUNCH

"Oenophiles will raise a glass to Begos's excellent exploration of the science and history of wine . . . This mix of memoir and wine education guide is all-around satisfying."
—Publishers Weekly

"You don't need to be an oenophile to enjoy this flavorful adventure about one wine nerd's search for the perfect grape . . . This multidisciplinary master class in the history, science, religion, and literature of wines is as luscious as a full-bodied pinot noir."
—Kirkus Reviews

"Readable and well-researched . . . A palatable blend of history, food science, and travel writing."
—Library Journal

"Tasting the Past is a rallying cry for the obscure grape and for regional particularity."
—Terroirist

"From the moment Begos describes Cremisan wine, the reader is captivated. You don't have to be an oenophile to dig this book."
—Atlanta Journal-Constitution

"A fascinating journey . . . Begos is an accomplished writer who enlightens with insights about the spread of winemaking throughout the world."
—The Prince of Pinot

"Tasting the Past is an insightful history of wine. This well-researched book has combined history, science, and travel in one place which makes it extraordinarily interesting and entertaining. It is packed with drink recommendation and will teach you how to select your wine next time you go out to buy a bottle. This intoxicating and sensual book will change the way you think of wine. Tasting the Past is an essential read for every wine lover."
—Washington Book Review

"Tasting the Past is a vintner's blend of science, history, travel, and tantalizing drink recommendations. It's the kind of book that will have you quoting passages at cocktail parties, making off-the-beaten-path travel plans, and seeking out unusual and obscure wines everywhere you go." 
—Amy Stewart, author of The Drunken Botanist
 
"In a personal, conversational style, Kevin Begos mixes poetry, history, geography, and science into a delightful volume in praise of unique, nearly forgotten grapes that give real meaning to terroir."
—Mark Pendergrast, author of Uncommon Grounds: The History of Coffee and How It Transformed Our World
 
"A myth-busting, history-reclaiming, science-centric, skeptical—and, yet, loving and respectful—tour of the history, the present, and even the future of wine production. Kevin Begos is an unrelenting and delightful detective." 
—Cat Warren, New York Times bestselling author of What the Dog Knows: Scent, Science, and the Amazing Ways Dogs Perceive the World
 
"Earthy, with undertones of humor. This fascinating dive into the world of obscure wines will educate you, entertain you, and make you want to drink. Begos teaches us that a glass of wine isn't just a glass of wine, but a window into history, culture, and science." 
—Matti Friedman, author of Pumpkinflowers 
 
"Kevin Begos has pulled together a wonderfully surprising assortment of characters and threads to take us on his compelling journey into wine's origin." 
—Alice Feiring, author of The Dirty Guide to Wine: Following Flavor from Ground to Glass
 
"Kevin Begos's exploration of the world's storied wines is an intoxicating blend of scientific inquiry, human culture, and natural history. Pull up a chair, open the book and pour yourself a glass to go with it—you'll enjoy it more than ever." 
—Deborah Blum, author of The Poisoner's Handbook: Murder and the Birth of Forensic Medicine in Jazz Age New York
 
"One of the most interesting books about wine I've ever read. It's Vin BC! Belongs in every oenophile's library." 
—Eugenia Bone, author of The Kitchen Ecosystem
 
"Through mythology, history, flavor and science, Tasting the Past stretches across centuries and continents, helping us understand why the transformation of juice to alcohol continues to intoxicate us all. A compelling, sensual journey weaving past and present."       
 —Simran Sethi, author of Bread, Wine, Chocolate: The Slow Loss of Foods We Love