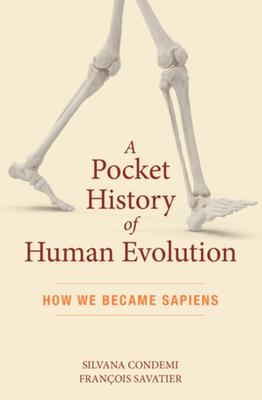 Description
---
Why aren't we more like other apes? How did we win the evolutionary race? Find out how "wise" Homo sapiens really are.

Prehistory has never been more exciting: New discoveries are overturning long-held theories left and right. Stone tools in Australia date back 65,000 years—a time when, we once thought, the first Sapiens had barely left Africa. DNA sequencing has unearthed a new hominid group—the Denisovans—and confirmed that crossbreeding with them (and Neanderthals) made Homo sapiens who we are today.

A Pocket History of Human Evolution brings us up-to-date on the exploits of all our ancient relatives. Paleoanthropologist Silvana Condemi and science journalist François Savatier consider what accelerated our evolution: Was it tools, our "large" brains, language, empathy, or something else entirely? And why are we the sole survivors among many early bipedal humans? Their conclusions reveal the various ways ancient humans live on today—from gossip as modern "grooming" to our gendered division of labor—and what the future might hold for our strange and unique species.
About the Author
---
Silvana Condemi, a paleoanthropologist, is the research director of the National Center for Scientific Research, the largest public scientific research organization in France, at Aix-Marseille University.

François Savatier is a journalist for the magazine Pour la Science (the French edition of Scientific American), where he focuses on the science of the past.

Their previous book is the award-winning Neanderthal, My Brother.
Praise For…
---
"In the style of Neil deGrasse Tyson's Astrophysics for People in a Hurry (2017), this slim volume is full of scientific wonders. . . . Readers will find themselves marveling at the incredible journey we have taken to become the preeminent life-form on our planet."—Booklist

"Keeping up with the flood of new information about our human origins is hard enough. So it is a minor miracle that Silvana Condemi and François Savatier have been able to summarize it all so elegantly and authoritatively in this short but highly readable book."—Ian Tattersall, coauthor of The Accidental Homo Sapiens

"This book will capture the attention of all readers interested in learning more about the deep history of our species. It is up-to-date and accurate—and well-written for the layperson—by a research-active scholar and a science journalist."—Eric Delson, professor of anthropology at Lehman College and the Graduate Center, City University of New York; and director of the New York Consortium in Evolutionary Primatology