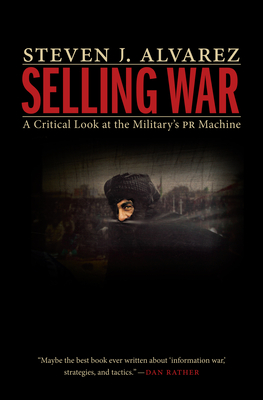 $34.95

NOT IN STOCK - Usually arrives in 7 - 14 business days
Description
---
In the spring of 2004, army reservist and public affairs officer Steven J. Alvarez waited to be called up as the U.S. military stormed Baghdad and deposed Saddam Hussein. But soon after President Bush's famous PR stunt in which an aircraft carrier displayed the banner "Mission Accomplished," the dynamics of the war shifted. Selling War recounts how the U.S. military lost the information war in Iraq by engaging the wrong audiences—that is, the Western media—by ignoring Iraqi citizens and the wider Arab population, and by paying mere lip service to the directive to "Put an Iraqi face on everything." In the absence of effective communication from the U.S. military, the information void was swiftly filled by Al Qaeda and, eventually, ISIS. As a result, efforts to create and maintain a successful, stable country were complicated and eventually frustrated.


Alvarez couples his experiences as a public affairs officer in Iraq with extensive research on communication and government relations to expose why communications failed and led to the breakdown on the ground. A revealing glimpse into the inner workings of the military's PR machine, where personnel become stewards of presidential legacies and keepers of flawed policies, Selling War provides a critical review of the outdated communication strategies executed in Iraq. Alvarez's candid account demonstrates how a fundamental lack of understanding about how to wage an information war has led to the conditions we face now: the rise of ISIS and the return of U.S. forces to Iraq.

 
About the Author
---
Steven J. Alvarez retired as a major from the U.S. Army Reserve after serving twenty-four years in the officer and enlisted ranks, on active duty and in the National Guard and Reserve. A recipient of the Bronze Star and the Combat Action Badge, during his military career Alvarez served as the commander of an Army public affairs detachment as well as the public affairs officer for several general officers and presidential appointees, including David Petraeus. In the private sector Alvarez works as a freelance writer and public relations professional. 
Praise For…
---
"Maybe the best book ever written about 'information war,' strategies, and tactics. An insider's revealing behind-the-scenes story of the media and the military in Iraq. From the White House to West Point to West Main Street, this is a book to ponder about the military and the press in a free society at war."—Dan Rather, former anchor of CBS Evening News and managing editor and anchor of Dan Rather Reports
 

"A fascinating and insightful study. . . . Without doubt, the best book on the subject."—Kristine Baker, Washington Book Review

"Selling War effects a sobering lesson on the human cost of miscommunication and misinformation. It should be required reading for military personnel and civilian policymakers."—Scott Neuffer, Foreword Reviews

"Selling War is a cautionary lesson for those who fail to grasp the vital importance of messaging in the competing narratives of modern conflict." — Adam Tiffen, Task & Purpose

"Selling War is must reading for PAOs, historians of the Iraq war and the modern American military, and indeed anyone interested in war and its perennial first casualty—truth."—William J. Astore, Michigan War Studies Review

"Steve Alvarez has written a brutally honest book about the 'screwed-up' U.S. communications campaign he was part of in Iraq after the 2003 invasion. Alvarez offers an unflinching look at what went wrong in the communications side of the war. This is the kind of frank, no-holds-barred assessment that the military needs as it digests 'lessons learned' from the painful decade of war in Iraq and Afghanistan."—David Ignatius, columnist for the Washington Post and author of The Director