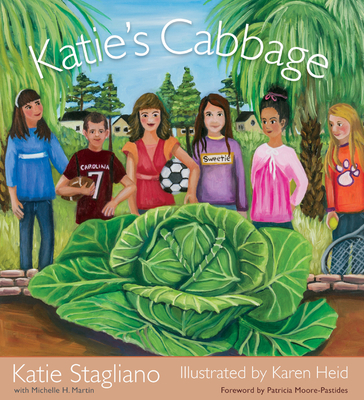 $16.49
Out of Stock Indefinitely
Description
---
Katie's Cabbage is the inspirational true story of how Katie Stagliano, a third grader from Summerville, South Carolina, grew a forty-pound cabbage in her backyard and donated it to help feed 275 people at a local soup kitchen. In her own words, Katie shares the story of the little cabbage seedling and the big ideas of generosity and service that motivated her to turn this experience into Katie's Krops, a national youth movement aimed at ending hunger one vegetable garden at a time. Katie's Cabbage reminds us of how small things can grow and thrive when nurtured with tender loving and care and of how one person, with the support of family, friends, and community, can help make a powerful difference in the lives of so many.
Katie's Cabbage was illustrated by Karen Heid, associate professor of art education at the University of South Carolina School of Visual Art and Design. Editorial assistance was provided by Michelle H. Martin, a dedicated gardener and the Augusta Baker Chair in Childhood Literacy at the University of South Carolina School of Library and Information Science. Patricia Moore-Pastides, First Lady of the University of South Carolina and author of Greek Revival from the Garden: Growing and Cooking for Life, offers a foreword about her friendship with Katie and her admiration of Katie's dream to end hunger one garden at a time.
About the Author
---
Katie Stagliano is the founder and chief executive gardener of Katie's Krops, a nonprofit organization with the mission to establish vegetable gardens of all sizes with the harvests donated to help feed people in need, as well as to assist and inspire other young people to do the same. Katie is the youngest recipient of the Clinton Global Citizen Award for Leadership in Civil Society, presented to her by Matt Damon in 2012. She is also a Global Teen Leader for Three Dot Dash, a Hasbro Community Action Hero, a Build-A-Bear Huggable Hero, was named a top ten youth volunteer of 2014 by the Prudential Spirit of Community Awards, and completed a three-year-term as a member of the Youth Advisory Board for the Alliance for a Healthier Generation. Katie tours the country, speaking about Katie's Krops and the power of youth service. She has written gardening blog posts for Lowe's Creative Ideas and is a contributor to State of the Heart: South Carolina Writers on the Places They Love, Volume 2. A competitive swimmer since the age of seven, Katie swims on her high school team at Pinewood Preparatory School in Summerville, South Carolina.