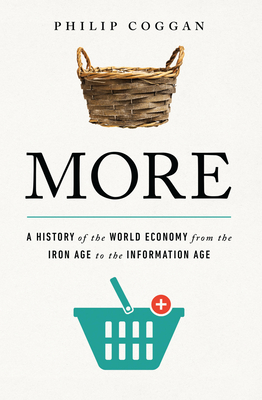 $20.89
Out of Stock Indefinitely
Description
---
A sweeping history that tracks the development of trade and industry across the world, from Ancient Rome to today.

From the development of international trade fairs in the twelfth century to the innovations made in China, India, and the Arab world, it turns out that historical economies were much more sophisticated that we might imagine, tied together by webs of credit and financial instruments much like our modern economy.
Here, Philip Coggan takes us from the ancient mountains of North Wales through Grand Central station and the great civilizations of Mesopotamia to the factories of Malaysia, showing how changes in agriculture, finance, technology, work, and demographics have driven the progress of human civilization. It's the story of how trade became broader and deeper over thousands of years; how governments have influenced economies, for good or ill; and how societies have repeatedly tried to tame, and harness, finance. More shows how, at every step of our long journey, it was the connection between people that resulted in more trade, more specialization, more freedom, and ultimately, more prosperity.
About the Author
---
Philip Coggan writes the Bartleby column for The Economist and is the former writer of the Buttonwood column. Previously, he worked for the Financial Times for twenty years. In 2009, he was voted Senior Financial Journalist of the Year in the Wincott awards and best communicator in the Business Journalist of the Year Awards. Among his books are The Money Machine, The Economist Guide to Hedge Funds and Paper Promises.
Praise For…
---
This is economics entertainingly and expertly demystified ... "Coggan, a columnist at The Economist, is one of the best financial journalists of his generation ... This is a grown-up book that is not suitable for adolescent Twitter warriors of the left or right.:—THE TIMES Saturday Edition

"A sharp, readable introduction to how the modern economy came to be."
—Kirkus Reviews

"A lucid and wide-ranging new history of the global economy."—Financial Times

"By the end of the book, "More" has given the reader a vivid sense of the extraordinary achievements of the interwoven modern world economy, with numerous lively anecdotes. It is quite an accomplishment to find the right length to tell a 10,000-year story while including so much relevant detail."—The Economist

"More is an impressive exercise in expanded journalism, and most readers will find much to agree with in its even-handed and eminently reasonable analysis."—Literary Review

"Boris Johnson doesn't have much time on his hands for reading at the moment. But as the pressure on him to enlarge the state for the sake of recovery intensifies, I can only hope someone is providing him with the odd precis of this kind of book."—Financial Times

"Philip Coggan tells his epic story of humankind's economic development with both wisdom and wit. Brilliantly weaving together a sweeping historical narrative with a focus on the drivers of development, Coggan has written a book that should be essential reading for anyone seeking to understand how our modern day economy came into being."
—Stephen D. King, senior economic adviser at HSBC and author of Grave New World

"More is an extraordinary achievement. How can it be possible to turn 10,000 years of human endeavor into a tale which is at once exciting, coherent, and surprisingly optimistic? Coggan has a very rare gift. He distills a vast expanse of human history--the history of trade and economic advance--into a beautifully light and elegantly written tale, full of surprises, and free of ideology. I cannot recommend this book highly enough."
—Eric Lonergan, author of Money: The Art of Living

"An engaging and highly accessible narrative about the long historical development of global trade, commerce, and innovation. Philip Coggan writes clearly about how and why it all happened, and gives us cause for optimism in difficult times."
—George Magnus, author of Red Flags: Why Xi's China Is in Jeopardy

"More takes a vast 10,000-year sweep of economic history and melds it into a compelling story of countries and conflicts, civilizations and civic institutions, stagnations and transformations. All in little more than 300 pages of lucid prose. It is a majestic must-read."
—Andy Haldane, chief economist, Bank of England

This is economics entertainingly and expertly demystified ... Coggan, a columnist at The Economist, is one of the best financial journalists of his generation ... This is a grown-up book that is not suitable for adolescent Twitter warriors of the left or right—JamesKirkup, Times

Big
and timely ... Coggan's account of the rise of the world economy is accessible
and mercifully free of jargon—SundayTimes

Lucid
and wide-ranging ... vivid, lively and rich in insight—FelixMartin, FT

It is a real pleasure, then, to read a history that naturally includes the crises but sets them in the context of the immense economic advances over the past ten millennia ... Philip Coggan, The Economist's Bartleby columnist, tells the story with both narrative verve and acute observation ... By the end of the book, More has given the reader a vivid sense of the extraordinary achievements of the interwoven modern world economy, with numerous lively anecdotes. It is quite an accomplishment to find the right length to tell a 10,000-year story while including so much relevant detail.—DianeCoyle, Economist

Packed
with amazing facts ... Occasional brushstrokes of humour add light touches ...
given the immensity of the subject, it is a masterpiece of selection and
compression.—MartinVander Weyer, Literary Review