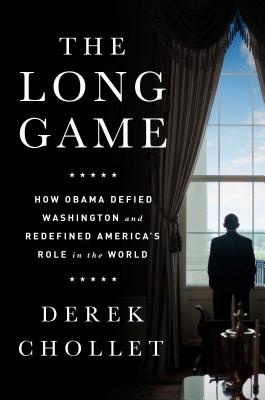 $29.69
Out of Stock Indefinitely
Description
---
In this inside assessment of Barack Obama's foreign policy legacy, Derek Chollet tackles the prevailing consensus to argue that Obama has profoundly altered the course of American foreign policy for the better and positioned the United States to lead in the future.

The Long Game combines a deep sense of history with new details and compelling insights into how the Obama Administration approached the most difficult global challenges. With the unique perspective of having served at the three national security power centers during the Obama years -- the White House, State Department, and Pentagon -- Chollet takes readers behind the scenes of the intense struggles over the most consequential issues: the wars in Iraq and Afghanistan, the meltdown of Syria and rise of ISIS, the Ukraine crisis and a belligerent Russia, the conflict in Libya, the tangle with Iran, the turbulent relationship with Israel, and the rise of new powers like China.

An unflinching, fast-paced account of U.S. foreign policy, The Long Game reveals how Obama has defied the Washington establishment to redefine America's role in the world, offering important lessons for the next president.
About the Author
---
Derek Chollet is counselor and senior advisor for security and defense policy at The German Marshall Fund of the United States, an advisor to Beacon Global Strategies, and an Adjunct Senior Research Scholar at Columbia University's Saltzman Institute of War and Peace Studies. From 2012 - 2015, Chollet was the U.S. Assistant Secretary of Defense for International Security Affairs, where he managed U.S. defense policy toward Europe (including NATO), the Middle East, Africa, and the Western Hemisphere.

Chollet has also been a fellow at The Center for a New American Security (CNAS), the Brookings Institution, the Center for Strategic and International Studies (CSIS), and the American Academy in Berlin. He has been a visiting scholar and adjunct professor at The George Washington University and an adjunct associate professor at Georgetown University.
Praise For…
---
"Derek Chollet defines and explains the Obama foreign policy as grand strategy. The Long Game goes against the conventional wisdom of our moment. Though an insider's account, it views the present as history and puts down a marker that will shape how historians interpret the Obama years." –George Packer, author of The Assassins' Gate and The Unwinding

"Foreign policy in the 21st century requires realism mixed with an element of idealism in order to navigate the intensifying anarchy of the world system. Derek Chollet shows this philosophy in action in this terrifically brisk, insider account of the Obama Administration's travails in the Middle East, Asia, and Europe. Agree with it or not, I know of no more compelling defense of Obama's record." –Robert D. Kaplan, Senior Fellow at The Center for a New American Security and author of In Europe's Shadow: Two Cold Wars and a Thirty-Year Journey Through Romania and Beyond

"Derek Chollet offers a well-argued and convincing defence of President Obama's approach to the world. Chollet is an example of the kind of scholar-policymaker that is such a feature of American statecraft…Chollet's detailed and knowledgeable discussion of the policy options provides a revealing picture of the nature and complexity of the US's policy dilemmas."—Gideon Rachman, Financial Times

"[Derek Chollet] is likely to be the closest anyone will come to understanding the thinking behind a foreign policy that has many critics…"—The Economist

"A measured insider's account of President Barack Obama's foreign policy…[Chollet] relies on his heavyweight credentials and personal perspective in a spirited, thoughtful defense of how Obama responded to both George W. Bush's missteps and the spiraling chaos that has greeted his own goals…A cogent, detailed policy review." —Kirkus Reviews

"Chollet has laid out a clear and compelling picture, and his text is positioned to become one of the definitive summaries of the Obama approach." —National Interest