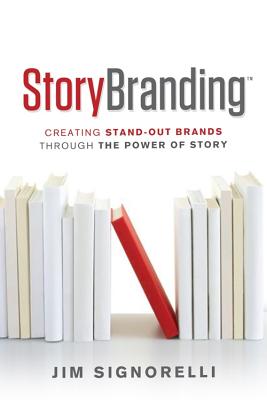 $24.95
Currently Out of Stock - No ETA
Description
---
Why would a 30-year advertising verteran claim that most advertising is a waste of money?
Having worked on many famous brands as an advertising executive, Jim Signorelli has found that today, in order for advertising to be truly effective, the brand being promoted must work the way a good story works. Many brands continue to get in their own way with an over-reliance on editorialized benefits. "Today, that's a death-wish," says Signorelli. "To remain competitive, brands must provide consumers with story themes they can relate to, identify with, and share with their tribes."
There are a number of books that discuss the parallels between stories and brands. But until this book was written, few, if any provide practical advice on how to apply story thinking to branding. Whether your brand is a product, service, or yourself, you'll be taken through the 6 steps that every brand should take in order to find it's oft-hidden story, the one that will make it most attractive to its audience. An easy, entertaining, and educational read, critics are saying this revolutionary book on branding is a must-read.

About the Author
---
Jim Signorelli is an advertising executive whose career has been spent at major national advertising agencies, including N.W. Ayer, W.B. Doner, Marsteller, Lois USA, and Frankel & Co. His clients have included Citibank, General Electric, Toshiba, Burger King, Arby s, KFC, International Harvester, Blue Cross/Blue Shield, McDonald s, The American Marketing Association, and many others. Jim is the cofounder and CEO of ESW StoryLab, a Chicago-based full-portfolio marketing firm, which was recognized by Inc. magazine three times as one of the fastest growing independent companies in the United States.

"