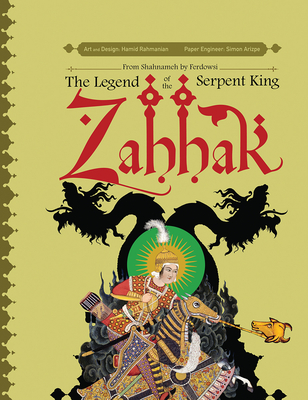 $39.99
Out of Stock Indefinitely
Description
---
A breathtaking pop-up book adaptation of a classic tale from the Persian Book of Kings.
For the first time ever, a tale from the Persian Book of Kings springs to life in this stunningly produced and ingeniously crafted pop-up book.
Zahhak: The Legend of the Serpent King
retells the myth of the misguided Prince Zahhak who is easily swayed by the devil to murder his father and usurp the throne. Cursed with monstrous snakes that grow out of the king's shoulders, the Serpent King grows infamous throughout the land for his treachery and oppression. He rules for one thousand years before a noble and valiant Feraydun gains the strength and army to defeat the unjust King. The fantastic world of
Zahhak: The Legend of the Serpent King
literally pops off the page with intricately crafted spreads, two pop-up folds per page, and complex construction that will delight readers young and old with every turn of the page.
About the Author
---
Hamid Rahmanian is a 2014 John Guggenheim Fellow, filmmaker, and graphic artist whose work has been exhibited in international competitions and publications. His narrative and documentary films have premiered at festivals such as Sundance, Toronto, Tribeca, and Venice, and have gained international recognition for their socially conscious storylines. He also worked for Disney.

Simon Arizpe is an award winning paper engineer and illustrator based in Brooklyn, NY. His pop-up book work has received the Society of Illustrators Award of Excellence and honorable mention from the Museum of Comic Book Art and Cartooning. The Smithsonian's Cooper-Hewitt Design Museum Library and the School of Visual Arts Library have acquired his work for their permanent collections. In addition to his design work Simon has been a guest lecturer on the subject of paper engineering at The Pratt Institute, Otis College of Art and Design, St. Ann's School for the Arts, and The Tucson Festival of Books.
Praise For…
---
This is one of the best pop-up books I've seen in a long time.
— Robert Sabuda

Zahhak animates the Persian epic Shanameh in new and startling ways. … [A] magnificent creation that extends the boundaries of what a pop-up book can be expected to contain.

— New York Journal of Books

Zahhak, the Legend of the Serpent King has all the ingredients of the blackest eastern tale — palace intrigues, demons, invaders come from a far country. The illustrations explode into flamboyant three-dimensional constructions. The scenes of King Zahhak possessed by the Evil One, the march on Iran, and the liberation of the Persian throne are simply breathtaking.

— Le Monde

A lively book in which each page offers its share of little surprises — a flap to lift, a wheel to turn ... So the story of this terrible tyrannical king comes to life, and we tremble for his people and for those who will find the courage to dethrone him. Magnificent.
— La Croix

Zahhak is a cardboard theater where the characters come alive, crowned with real feathers. As if by magic, over the pages arise a luxury of flamboyant and calligraphic details, revealing a city, a forest, a palace, a cave, dark snakes, roaring waves, or armies in the countryside. A fairytale dream for children and a source of wonder for the whole family.

— Le Monde Sera Beau

A pop-up book that makes full use of the medium and is guaranteed to impress on multiple readings. I highly recommend checking it out if you have any interest in mythology, papercraft, or just want to be surprised by how much someone can hide between the pages of a book!
— Previews World

It's like a tiny, portable theatrical performance, with animated folds of paper that surround and crown kings or move celestial bodies.
— The Iranian