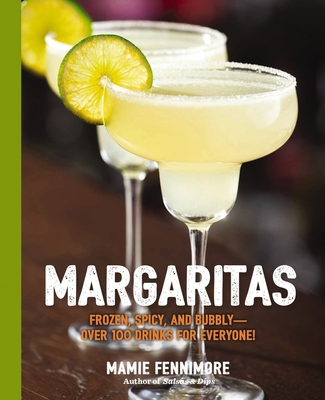 $18.95

NOT IN STOCK - Usually arrives in 7 - 14 business days
Description
---
Add a citrusy twist to your gatherings and parties!

Frozen, neat, or on-the-rocks, Margaritas is the ultimate margarita handbook that will help you step up your cocktail game and features:

- Over 101 recipes for making perfect margaritas
- A guide to all types of tequila
- A history of this citrusy cocktail's Mexican origins and its journey to the United States and the rest of the world
- Necessary glasses and tools for every home bar
- Creative garnishes provide plenty of ways to serve this party favorite
- Recipes for delicious mocktails to satisfy the taste of everyone
- Full-color photography enhances the experience of this book

Margaritas is the perfect addition to any cocktail lover's collection.
About the Author
---
Mamie Fennimore is a Philadelphia native currently living and working in Manhattan's Upper East Side as a wine seller. A certified sommelier and a former cheesemonger for two of NYC's most reputable cheese companies, she loves to share her knowledge through teaching wine and cheese pairing courses. Her passion for food and wine started at a young age and truly solidified after her time living in the south of France. It was the French lifestyle that inspired her to share the importance of quality ingredients and accompaniments for meals to bring to loved ones at the table.