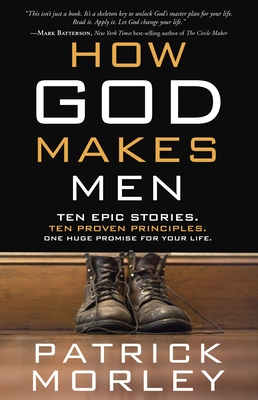 Description
---
"All through the Bible, we see stories of bold and brash men who followed God's call into some incredible adventures. In How God Makes Men, Patrick Morley reminds us that God still makes those kinds of guys."—Dave Ramsey, New York Times bestselling author and nationally syndicated radio show host

God's Way for You to Become God's Man
 
Let's face it—men today are under severe attack. The battle line against biblical manhood is clearly drawn and fiercely contested. More than ever, men who want to follow Christ are asking:
 
• Why is it so hard to live an authentic Christian life?
• Who will show me how to thrive as a father, a husband, and on the job?
• What should I do when I'm being tested to the breaking point?
 
Fortunately, the Bible preserves crucial details about the powerful lessons learned by men who have already faced and answered these questions. In How God Makes Men, renowned expert on men's issues Patrick Morley takes you into Scripture for a first-hand encounter with:
 
• Ten epic stories of the Bible's most talked-about men
• Ten proven principles—based on their failures and successes—that show how God works in a man's life, and how you can cooperate with Him in yours
• The huge promise that you can become the man God created you to be
 
Don't settle for less. Join Patrick on this epic adventure of becoming God's man. You'll discover how to prevail in tough times and release God's power in every area of your life.
About the Author
---
Patrick Morley is one of America's most respected authorities on the challenges and opportunities facing men. The author of many books, he is best known for The Man in the Mirror, with more than three million copies in print. He and his wife, Patsy, live in Winter Park, Florida.
Praise For…
---
Praise for How God Makes Men

"Don't we all sometimes feel like there's another man coiled up inside us who desperately wants to get out? In How God Makes Men, Pat Morley is going to show you God's way to help you release that man. This isn't just a book. It's a skeleton key to unlock God's master plan for your life. Read it. Apply it. Let God change your life. You're going
to love this book!"
—Mark Batterson, New York Times best-selling author of The Circle Maker

"Pat Morley knows men—what they want, what they need, and God's way of helping them get it. Now he has written a watershed book that clearly explains God's role in changing men's lives. After unpacking ten timeless principles of how God forged our Bible heroes, Pat will help you connect the dots to your life today. I highly recommend How God
Makes Men for your personal reading or small group."
—Dr. Tony Evans, president of the Urban Alternative and senior pastor of Oak Cliff Bible Fellowship

"There are all kinds of help out there to encourage us to be better men. But nothing compares to the manhood wisdom drawn directly from God's Word. And that's what Patrick Morley richly blesses us with in How God Makes Men. I highly recommend you drink deeply from it."
—Robert Lewis, founder of Men's Fraternity

"I believe that men are under attack in our culture. Television and other media feed us a steady stream of weak, complacent men—but that's not the kind of man you see in Scripture! All through the Bible, we see stories of bold and brash men who followed God's call into some incredible adventures. In How God Makes Men, Patrick Morley reminds us that God still makes those kinds of guys."
—Dave Ramsey, New York Times best-selling author and nationally syndicated radio-show host

"This is not a book. It's a gift. Patrick Morley has taken what decades of faithful ministry to men has taught him and laid this wisdom atop the incredibly poignant, true stories of men in the Bible. What God is up to in your life and mine has everything to do with our learning obedience and a faithful walk with Him…while He writes our story. Because of God's grace, our story even has a chance to be epic. Depending on what you and I need right now, this book will be either an encouragement or a necessary kick in the pants."
—Dr. Robert Wolgemuth, best-selling author

"Pat Morley is a masterful teacher of men. How God Makes Men is his most ambitious project since his best-selling Man in the Mirror twentyfive years ago. It's a fascinating blend of the thousands of up-close-and-personal conversations with men in a variety of circumstances in a turbulent world matched with the stories of ten Bible heroes and how they faced their own strikingly similar issues. There is nothing quite like it!"
—Bob Buford, founder of Leadership Network and author of Halftime and Finishing Well

"God takes strong men, breaks them down and makes them weak. No man wants to go through this, but this is the path to being used by God. Pat Morley has experienced this and understands the process. For the man who is broken and confused, How God Makes Men will bring hope, healing, and biblical clarity. I read it, highlighted it, and marked it up. That to me is the acid test for a valuable book."
—Steve Farrar, author of Point Man

"No matter how much you already know—or don't know—about God, this captivating book is going to help you grow leaps and bounds in your relationship with Christ. Pat clearly demonstrates how God makes a man by using the personal stories of ten great biblical characters to show us how we, too, can adopt ten life-changing principles
that are the trademark of God's man. Pat's knowledge and passion to help every man be the person God created him to be makes How God Makes Men a must-read!"
—Kyle Vann, energy consultant and retired CEO of Entergy-Koch LP