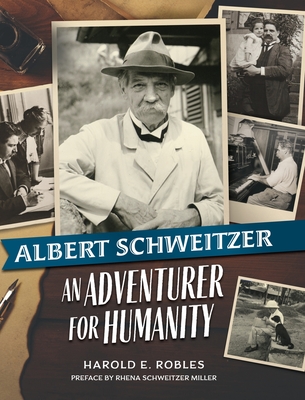 $39.95

NOT IN STOCK - Usually arrives in 7 - 14 business days
Description
---
Dr. Albert Schweitzer was one of the greatest humanitarians the world has ever known. This biography for young readers chronicles his long life and accomplished career. Generously illustrated with rare photographs, Albert Schweitzer: An Adventurer for Humanity takes readers through young Albert's early years in Germany. We learn of his love of music, and of the studies in theology and philosophy that informed his decision to devote the rest of his life to serving humanity. It was this decision that led to his renowned humanitarian work in Africa, including his building of a hospital at the river mission in Lambar n .
It was while traveling down the Ogowe River in Africa that Albert had a powerful insight that shone brightly throughout his later years: "Reverence for Life." This idea led him to become a champion of world peace and human and animal rights.
Today hospitals throughout the world bear Albert Schweitzer's name in recognition of his immense contribution to humanity, and his work continues to inspire new generations. The life of Albert Schweitzer serves as an example not just of what one person can do, but of how all of us can contribute our own light to help make the world a better place.
Author Dr. Harold E. Robles is well known for his international humanitarian work, including the creation of Health Promotion South Africa Trust (HPSA). He has worked with world leaders and human-rights activists from around the globe, including Desmond Tutu, U.S. Presidents Jimmy Carter and Bill Clinton and the former leader of the Soviet Union, Mikhail Gorbachev. In November 2016 President Barack Obama honored Dr. Robles and HPSA.
Contains, index, photos, bibliography/further reading, and chronology.