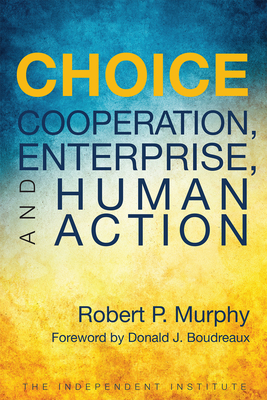 Description
---
Unlike what usually passes for economics in many classrooms, government, the media and elsewhere, Choice is an engaging and intriguing book that provides something quite unique: a genuine treatise on economics that both instructs and entertains both economists and general readers. Drawing on the seminal volume by the "Austrian School" economist Ludwig von Mises, Human Action, and comparing classical and neoclassical approaches, Choice is a creative, comprehensive, and unusually lucid book on economic science and market processes. The book illuminates free economies as underpinning civilization, the folly of government central planning, the primacy of entrepreneurship and innovation, the nature of money and banking, the causes of the business cycle, the failures of government intervention, and more.
As a result, Choice teaches economic principles and exposes economic fallacies, and any reader will learn both the important truths about economics and the
About the Author
---
Robert P. Murphy is Research Fellow at the Independent Institute. He received his Ph.D. in economics from New York University and was formerly Visiting Assistant Professor of Economics at Hillsdale College, Visiting Scholar at New York University, Research Analyst at Laffer Associates, Chief Economist for the Institute for Energy Research, and Senior Fellow in Business and Economic Studies at the Pacific Research Institute. His popular articles have appeared in the Los Angeles Times, Detroit New, Washington Times, Orange County Register, Atlanta Journal-Constitution, MarketWatch, Buffalo News, San Jose Mercury News, Barron's, Forbes, and Investor's Business Daily. In addition, he has appeared on CNBC, Fox Business Network, C-SPAN, and other TV and radio networks and programs. Donald J. Boudreaux is Research Fellow at the Independent Institute, Associate Editor of The Independent Review, and the Nelson Getchell Chair for the Study of Free Market Capitalism in the Mercatus Center at George Mason University. He has been President of the Foundation for Economic Education and Associate Professor of Legal Studies and Economics at Clemson University. His articles have appeared in the American Spectator, Investor's Business Daily, Journal of Commerce, Wall Street Journal, and Washington Times, as well as in such scholarly journals such as the Antitrust Bulletin; Journal of Money, Credit, and Banking; Southern Economic Journal, and Supreme Court Economic Review.
Praise For…
---
"No one working today rivals Robert Murphy in his superb book, Choice, with an all-too-rare, lively writing that engages as well as instructs the general public. And what Murphy offers here is no mere primer. Choice is something quite unique: a genuine treatise on economics that instructs and entertains even non-economists. Any reader of this book will learn both the important basic truths about the science of economics and the crucial value of individual choice, entrepreneurship, and free markets."
—Donald J. Boudreaux, Professor of Economics, George Mason University

"In Choice, Robert Murphy's achievement is extraordinary. He not only makes Human Action more easily understandable, but also does what Mises could not do. He relates Mises's ideas to late twentieth and early twenty-first century developments in economics and other fields and shows how these ideas are so vitally important for both economists and the general public alike."
—Mario J. Rizzo, Director, Program on the Foundations of the Market Economy, New York University

"Human Action by Ludwig von Mises is the greatest of all economic tomes. In Choice, Robert Murphy brings this masterwork down from the summits of theory and history into the hands of today's citizens in the form of a pithy text as topical as headline news and as trenchant as the original work of the Austrian titan himself."
—George Gilder, author, Wealth and Poverty and other books

"If you seek to understand the Austrian economist's way of thinking, Choice is a great place to start. Robert Murphy does an excellent job leading the reader through the key insights in Ludwig von Mises's classic Human Action and then expanding upon them. He uses clear examples to show the similarities and differences between Austrian, Marxist, classical, and neoclassical approaches to economic reasoning. I strongly recommend it."
—Price V. Fishback, Thomas Brown Professor of Economics, University of Arizona

"Ludwig von Mises's Human Action remains the premier presentation of Austrian economics. Its 900 pages, however, doubtlessly inhibits many people from reading this masterpiece. With his wonderful book Choice, Robert Murphy presents a convenient solution for such people: in 300 pages, he presents a very readable précis of Human Action, one whose fine quality will surely inspire many readers to turn to Mises himself."
—Richard Wagner, Harris Professor of Economics, George Mason University

"In Choice, economist Robert Murphy has achieved the much-needed idea of rendering Ludwig von Mises's masterwork, Human Action, in prose that is user-friendly to 21st century speakers of English with no prior training in economics. The result is a great read—and by preserving the core insights of Austrian economics in this way, Murphy has performed an invaluable service."
—Gene Epstein, Economics Editor, Barron's

"Ludwig von Mises was not only the greatest economist of his time, he remains arguably the most important economist of our time. Robert Murphy's Choice captures the essential Misesian contributions to the science of economics. Students will benefit greatly from a careful reading of Murphy and it will prepare them to better appreciate the depth of Mises's contributions. Highly recommended!"
—Peter J. Boettke, University Professor of Economics and Philosophy, George Mason University

"Robert Murphy is a gifted expositor and one of the great teachers of Austrian School economics. What a delight to see him turn his talents to Mises's seminal work! Human Action is a profoundly important book, but its insights are not always accessible to the modern reader. Murphy's thorough, engaging, and funny book Choice will help spread Mises's message far and wide."
—Peter G. Klein, Professor of Entrepreneurship, Baylor University

"A condensed and readable version of Ludwig von Mises's Human Action would be a significant contribution to economics. Such a book now exists in Choice that places Human Action in the context of Mises's own body of work as well as the evolving literature of Austrian School economics and other schools of thought. Choice would certainly further serve as an excellent undergraduate textbook for students in a course in Austrian economics."
—Bruce L. Benson, DeVoe Moore Distinguished Research Professor of Economics, Florida State University

"Choice does fine work in restating and updating the Austrian school's approach to understanding economics using language and concepts comprehensible to wider, non-specialist audiences. Refreshingly free of rhetorical excesses, Robert Murphy's text provides a clear roadmap to thinking 'like an Austrian' about the challenges facing the American and global economies."
—Fr. Robert A. Sirico, President, Acton Institute

"Nearly 50 years have passed since Ludwig von Mises produced his final edition of Human Action. And now thanks to Robert Murphy in his important book Choice, we have the essentials of Mises's famed treatise well-tailored for 21st-century readers together with revealing comparisons of Austrian economics with the modern-day mainstream alternative."
—Roger W. Garrison, Professor Emeritus of Economics, Auburn University

"Choice is one of the best introductions to modern Austrian School economics that I have ever read. Its clarity of writing and stress on the fundamentals of Mises differentiates it from other works. We owe Murphy a great debt for this book, and one can only hope that it will be a smashing success both as a textbook and a book read by the general public. I highly recommend that you get a copy and read it."
—Robert D. Tollison, Newman Professor of Economics, Clemson University

"Choice is a welcome book—a well-written, penetrating presentation of Ludwig von Mises's economic analyses and insights. A most compelling read."
—Steve H. Hanke, Professor of Applied Economics, Johns Hopkins University

"In Choice, Robert Murphy has done a great service by restating and extending for the modern era the works of Mises, Hayek, and other Austrian School economists. I expect this will be the go-to text used by the next generation of students to discover the importance of market processes for human flourishing."
—Robert A. Lawson, Fullinwider Chair in Economic Freedom, Southern Methodist University

"One reason the writings of Ludwig von Mises have not penetrated college curricula and the general public may be that Robert Murphy had not yet written Choice. I have resisted using Mises in undergraduate classes because, frankly, he is a difficult read. Murphy, on the other hand, writes clearly and concisely. His audience includes fellow economists, but is far broader than that. I can give this book as a gift to friends and family outside academia. And I can certainly use it in my university courses."
—Randy Simmons, Professor of Economics and Finance, Utah State University

"Vermont Royster, former editor of the editorial page of The Wall Street Journal, wrote that Ludwig von Mises's magnum opus, Human Action, belonged 'on the bookshelf of every thinking man.' The same can be said of Robert Murphy's wonderful book, Choice. Murphy has written a comprehensive study of the science of economics that is accessible to a wide audience. In tracing the implications of purposive human behavior, this important book provides crucial insights into the foundations of a free and prosperous world."
—Christopher J. Coyne, F.A. Harper Professor of Economics, George Mason University

"Choice is a masterful, modern, witty exposition of the principles of Austrian economics: it simultaneously provides a delightful guide to Ludwig von Mises's incomparable Human Action, but also something more—a long-due sequel to it."
—Kevin Dowd, Professor of Finance and Economics, Durham University

"Robert Murphy is a master communicator. In Choice he makes the main ideas from the most important economics book of the 20th century, Human Action, accessible to the average person. Once normal people read this, they'll never look at economic policies the same way again."
—Benjamin W. Powell, Director, Free Market Institute, Texas Tech University

"Robert Murphy is a very talented communicator of economic ideas. In Choice, he has taken an immensely complex body of theory and rich intellectual history and distilled it into a manageable framework for novice and intermediary readers alike. This book will be a great way for unfamiliar readers to gain a thorough understanding of economics via an engaging and entertaining read."
—Daniel J. D'Amico, William Barnett Professor of Economics, Loyola University New Orleans

"Robert Murphy provides a helpful and intriguing introduction to the complexity of economics in Choice. This is an essential guide for a serious student wishing to understand the field. It also serves as an enjoyable review with numerous insights for seasoned practitioners. The richness and resourcefulness of human actions shines brightly and encouragingly."
—Gerald A. Gunderson, Shelby Cullom Davis Professor of American Economic Enterprise, Trinity College