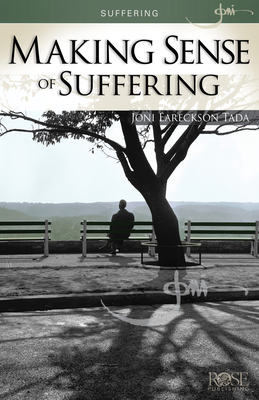 Description
---
Suffering is miserable. When you're overwhelmed by pain and problems, it's easy to feel helpless, hopeless and sinking into a whirlpool of self-pity. Author and speaker Joni Eareckson Tada knows about these emotions first-hand. A diving accident in 1967 left her confined to a wheelchair as a quadriplegic at the age of 17. Joni knows what it's like to suffer chronic pain. Yet she has found comfort and meaning in the God of the Bible.
Whether you are suffering physically, emotionally, or spiritually, it is easy to feel overwhelmed. Joni Eareckson Tada understands. After being a quadriplegic for more than 45 years, Joni Earekson Tada knows where to go in the Bible to find practical encouragement. There is no easy answer when it comes to processing pain and suffering. But, Joni shows you how to stay encouraged and how to fix your eyes on the truth. She covers the 5 ways suffering can strengthen--not weaken--your walk with God and she shares the 10 key ways to make sense of suffering.
Packed with key Bible verses, practical advice, prayers, and reflection questions, this incredible pamphlet answers--
Why do I have to suffer?
How can I possibly endure this pain?
Does God really care about my suffering?
What good could possibly come from my suffering?
Joni says, Somewhere after the first five years of life in my wheelchair, I noticed a change in my hardships. I was beginning to see how my quadriplegia was working for my good and God's glory--simply put, it meant becoming more like Christ.
Making Sense of Suffering is a Scripture-based pamphlet that will bring hope and comfort to those who are going through personal difficulties, and will be a great help to groups dealing with grief, disabilities, emotional and physical trauma, divorce, and more.
14 panels, fits inside most Bibles, 8.5 x 5.5 inches, unfolds to 38 inches long.
3 Key Features of
Making Sense of Suffering
Bible-Based--Packed with dozens of Scriptures and helps straight from the Word of God, get solid advice for navigating trials that will guide you towards hope and spiritual growth.
Practical--This pamphlet isn't just fluffy encouragement and hopeful words: get real, practical steps you can take today to apply God's Word to your life and allow him to transform your hurts into hope.
Relevant--Instead of religious cliches or sugarcoated greeting-card advice, get a wealth of experience and eternal hope from someone who has been there and suffered the pains of loss and illness. Filled with real stories from real people, enjoy having inspiring testimonies of those that found their hope in the Lord.
Perfect for:
Personal & individual use
Small group study
Devotions
Hospital ministry
Chaplaincy
Outreach ministry
Church giveaways
And more
About the Author
Joni Eareckson Tada offers hope to people struggling with health and emotional challenges. After a 1967 diving accident left Joni Eareckson Tada a spinal cord-injured quadriplegic, she embarked on a lifelong study to make sense of suffering from God's perspective. Joni Eareckson Tada is now an international advocate for individuals with disabilities, and the founder of the non-profit organization, Joni & Friends.