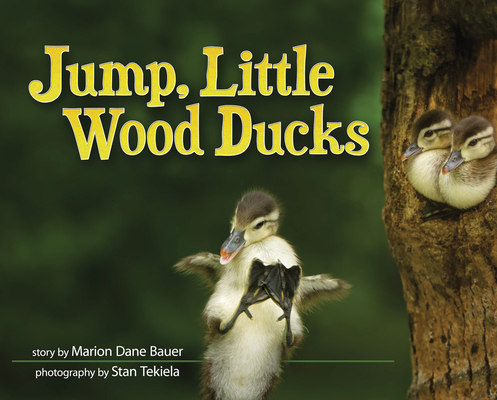 $14.95

NOT IN STOCK - Usually arrives in 7 - 14 business days
Description
---
It's a long way down. Will they jump?
If you were born high up in a tree, would you jump to the ground? That's what Wood Ducks are supposed to do, but three little ducklings aren't so sure. Mama Wood Duck calls for them to come, but her babies just won't budge Will they find their courage when Mama tells them all about a Wood Duck's wonderful life?
Internationally recognized children's author Marion Dane Bauer weaves a delightful tale that's both quirky and cute, while acclaimed nature photographer Stan Tekiela brings the story to life with engaging photographs of Wood Ducks in action. Stan and Marion's first three picture books are all award winners, and Jump, Little Wood Ducks is another heartwarming story, based on Wood Duck behavior.

Features:

Full-color photos of real animals
Engaging text to interest young readers
Fun facts about the natural world
About the Author
---
Marion Dane Bauer is the author of more than 100 books for young people. She has won numerous awards, including an American Library Association Newbery Honor Award for her novel On My Honor. Her books have been translated into more than a dozen different languages. Naturalist and wildlife photographer Stan Tekiela is the author of more than 175 field guides, nature books, children's books, wildlife audio CDs, puzzles and playing cards. He has received various national and regional awards for his books and photographs.