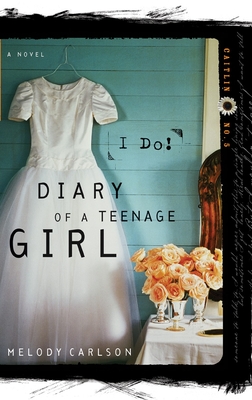 $17.60
Out of Stock Indefinitely
Other Books in Series
This is book number 5 in the Diary of a Teenage Girl series.
Description
---
Saturday, October 22

My life changed today. It's as if I got up this morning as one person and will go to bed as someone else. Okay, maybe it's not THAT drastic. But I'm so excited I'm not sure I'll ever go to sleep tonight. Josh Miller asked me to marry him!

First she "kissed dating goodbye." Now, several years later, Caitlin O'Conner is getting married–to the guy she's loved all along, Josh Miller! It's her senior year of college, and she has seven months to plan her wedding...but according to Josh's mom, that's not enough time.

Meanwhile, Caitlin's roommate, Liz, has ditched her to move in with a boyfriend. Her new roommate and old friend, Jenny, is toying with anorexia again, and just when Caitlin needs her most, Beanie heads off to a New York City design school. On top of all this, an issue from Josh' s past rocks Caitlin's emotions. Can she handle it all?

True to form, Caitlin is more concerned with following God than having the perfect wedding. But it is her big day. Can Caitlin have a lovely ceremony without spending a small fortune? Will she remember it's the marriage–and not the wedding–that lasts forever?

Story Behind the Book

"My teenage years remain vivid in my mind. It was a turbulent time full of sharp contrasts– love and hate, pain and pleasure, trust and doubt. Then, just as I reached my peak of questioning, rebelling, and seeking, I found God. And I found Him in a really big way! My life turned completely around and has, thankfully, never turned back. Hopefully this story will touch and change hearts–speaking to teen girls right where they live, reminding readers that God is alive and well and ready to be intimately involved in their lives right now! Caitlin provides a very positive role model for girls. And her wedding is a great way to teach them about the things that really matter in life–their relationship with God and their willingness to be used by Him."
About the Author
---
Melody Carlson has published over 90 books for children, teens, and adults—with sales totaling more than 2 million and many titles appearing on the ECPA Bestseller's List. Several of her books have been finalists for and winners of various writing awards. Her Diary of a Teenage Girl series has received great reviews and a large box of fan mail. Melody has two grown sons and lives in Central Oregon with her husband. They enjoy skiing, hiking, gardening, camping, and biking in the beautiful Cascade Mountains.