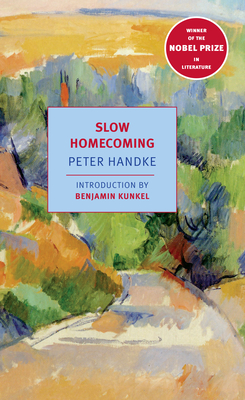 Description
---
By Nobel Prize Winner Peter Handke
Provocative, romantic, and restlessly exploratory, Peter Handke is one of the great writers of our time. Slow Homecoming, originally published in the late 1970s, is central to his achievement and to the powerful influence he has exercised on other writers, chief among them W.G. Sebald. A novel of self-questioning and self-discovery, Slow Homecoming is a singular odyssey, an escape from the distractions of the modern world and the unhappy consciousness, a voyage that is fraught and fearful but ultimately restorative, ending on an unexpected note of joy.
The book begins in America. Writing with the jarring intensity of his early work, Handke introduces Valentin Sorger, a troubled geologist who has gone to Alaska to lose himself in his work, but now feels drawn back home: on his way to Europe he moves in ominous disorientation through the great cities of America. The second part of the book, "The Lesson of Mont Sainte-Victoire," identifies Sorger as a projection of the author, who now writes directly about his own struggle to reconstitute himself and his art by undertaking a pilgrimage to the great mountain that Cézanne painted again and again. Finally, "Child Story" is a beautifully observed, deeply moving account of a new father—not so much Sorger or the author as a kind of Everyman—and his love for his growing daughter.
About the Author
---
Peter Handke was born in Griffen, Austria, in 1942. He came to early prominence in the 1960s for such experimental plays as Kaspar and rapidly established himself asone of the most respected German-language writers of his generation, producing fiction, translations, memoirs, screenplays, and essays. Among his best-known novels are The Goalie's Anxiety at the Penalty Kick, Repetition, and My Year in the No-Man's Bay. He has directed adaptions of his novels The Left-Handed Woman and Absence and collaborated with filmmaker Wim Wenders on four films, including Wings of Desire. In addition to Slow Homecoming, NYRB Classics has also published Handke's novel Short Letter, Long Farewell.  Peter Handke won the Nobel Prize for Literature in 2019.
Benjamin Kunkel is the author of the novel Indecision and a founding editor of n+1 magazine.
Ralph Manheim (1907–1992) translated Günter Grass, Louis-Ferdinand Céline, Hermann Hesse, and Martin Heidegger, along with many other German and French authors.
Praise For…
---
"Moving and powerful...with the freshness that only an extraordinary writer can impart." –Los Angeles Times


______________________________________________
PRAISE FOR HANDKE

"One of the most original and provocative of contemporary writers." –Lawrence Graver, The New York Times

"Peter Handke…perhaps the most interesting young writer in German today." –Frank Kermode

"There is no denying Handke's willful intensity and knife-like clarity of emotion. He writes from an area beyond psychology, where feelings acquire the adamancy of randomly encountered, geologically analyzed pebblesÉThe best writer, altogether, in his language." –John Updike, The New Yorker

"His experimental poetry and anarchic, anti-authoritarian work win him a following among Germany's left-wing `1968ers'. Handke aims to strip away unnecessary words and challenge linguistic conventions, developing a spare, robust prose style." –The Guardian

"IMAGINE a cross between Holden Caulfield and Bertolt Brecht, and you'll have a sense of the Austrian novelist, playwright and screenwriter Peter Handke, whose alienation from the phony and harmful adult world is as pure as his esthetic purity is purposefully alienating...As it happened, Handke ended up writing social criticism with a vengeance...though to some degree time-bound tales of angst, have a pained, mysterious beauty. Their alluring tension lies in the little war they prosecute between eloquence of expression and rage at the loss of meaning." –The New York Times

"Peter Handke made his reputation as an important writer with a fierce, icy set of plays and novels: Offending the Audience, Kaspar, The Ride Across Lake Constance, The Goalie's Anxiety at the Penalty Kick and Short Letter, Long Farewell. Oblique yet startlingly immediate, these works embodied in fresh fictional and dramatic forms concerns that seemed particularly postmodern, notably an obsession (indeed, a disgust) with the way language itself defines and constricts human possibilities." –The New York Times

"The David Byrne of fiction: a writer with a resonant, powerfully direct voice who could invoke the particular Sartrean nausea of postmodern existence in the simplest events." –The New York Times

"Handke is a securely established star of the German-speaking literary world, 'the darling of the West German critics,' and a 'key figure of his generation.'" –The New York Times

"One of the most original and provocative of contemporary writers." –The New York Times

"Handke was and is, one of the most eminent narrative and dramatic writers of postwar Europe." –The Boston Globe

"Peter Handke must be acknowledged as one of the major voices in contemporary fiction." –Partisan Review

"One awaits with pleasure whatever Peter Handke turns to next…Since the 1960s, he has been a popularly acclaimed novelist, playwright and poet and a long-standing critical success. He now creates a more rarefied, demanding art coupled with a lucid yet mythic affirmation of life." –The Boston Herald

"In power and vision and range, Peter Handke is the most important new writer on the international scene since Beckett." –Stanley Kaufmann, Saturday Review

"His prose is reminiscent of the writings of Henry James…a passion for understanding, for grasping the tortured complexities of contemporary life." –The Philadelphia Inquirer

"Peter Handke achieved the kind of succes de scandale every ambitious young writer dreams of... and Mr. Handke became the enfant terrible of the European avant-garde...But Mr. Handke has aged well, and now, as the prolific author of plays, novels, essays, stories and poems, he is regarded as one of the most important writers in German." —The New York Times