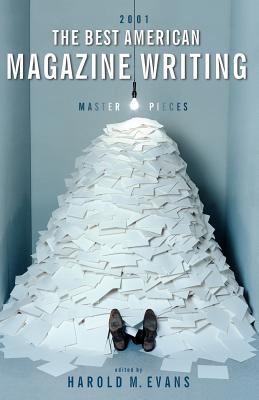 $21.99

NOT IN STOCK - Usually arrives in 7 - 14 business days
Description
---
In the world of magazines, no recognition is more highly coveted than an "Ellie," the National Magazine Award presented by the American Society of Magazine Editors to the best of the American magazines. The Awards are the magazine equivalents to the Pulitzer Prizes of the newspaper industry. Each year, hundreds of editors-in-chief, journalism professors, and art directors winnow more than a thousand submissions to about seventy-five nominees in categories such as Reporting, Feature Writing, Profiles, Public Interest, Essays, Reviews and Criticism. Interest in the nominees is keen, and this collection will allow people both in the magazine world and beyond to find in one place, read, and admire the year's best. It is a wonderful, browsable volume of interest to writers and readers who appreciate magazine writing and journalism at its highest level.
About the Author
---
The American Society of Magazine Editors (ASME) is the professional organization for senior editors of consumer magazines and business publications which are edited, published, and sold in the United States. It sponsors the National Magazine Awards which are administered by the Columbia University Graduate School of Journalism.

Harold M. Evans is a journalist, book publisher and magazine editor. He was the editor of the London Times, founding editor of Condéast Traveler and president of the Random House Adult Trade division. He is the author of The American Century.