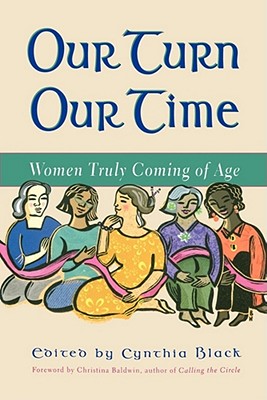 $16.99

NOT IN STOCK - Usually arrives in 7 - 14 business days
Description
---
Our Turn, Our Time is an amazing collection of essays written by women who are committed to celebrating and valuing the passage into the second half of life. These women are redefining the role older women play in contemporary society by embracing creativity, spirituality, and sisterhood. These essays are filled with insight, humor, and compassion on a broad variety of topics: the richness of women's groups, the rewards of volunteering, the power of crone ceremonies, the fires of creative expression, the challenges of a changing body, and the confidence that comes from success in later life.



Individually, the essays are inspirational and motivating. As a collection, the book becomes a unique support system for women as they age together, providing the opportunity to embrace each passing year with grace and enthusiasm. You will not find celebrities in this book. Our Turn, Our Time is written by everyday women for everyday women, creating equality and unity. The women in this book are positive role models and they will encourage other women to have an enriching, uplifting, and a refreshingly new perspective on the second half of life!
About the Author
---
Cynthia Black is the president and editor in chief of Beyond Words Publishing, Inc. She oversees the editorial and publicity aspects of the company and has been active in developing and promoting the importance of spiritual lifestyles and global wisdom for the past twenty-nine years.