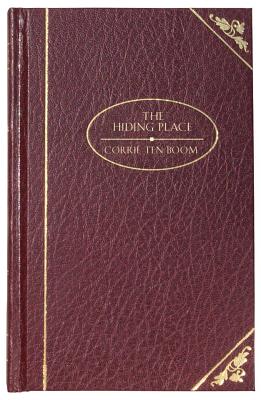 $12.99

NOT IN STOCK - Usually arrives in 7 - 14 business days
Description
---
Timeless Christian titles, handsomely bound, at a tremendous value!

An amazing story of faith amidst the horrors of the Holocaust, The Hiding Place has a richly-deserved place among the "Christian classics."

In this autobiographical account, Corrie ten Boom tells of her family's attempt to save Dutch Jews from a Nazi roundup - until their efforts were discovered and the entire family sent to a concentration camp. Her father and sister would die in captivity, but Corrie would survive to write, preach, and personally share the story of God's love and forgiveness - even to her former Nazi captors!

Now in a deluxe collector's edition, this unabridged classic will thrill readers of all ages.
About the Author
---
When the second world war began, CORRIE TEN BOOM was simply an ordinary, middle-aged Dutch spinster. By the time the conflict ended, she was literally transformed by the faith she had merely accepted, and on a mission from God. By God's grace, Corrie survived the concentration camp and became a "tramp for the Lord," sharing in more than sixty nations the thrilling message that nothing, not even death, can separate us from God's love.