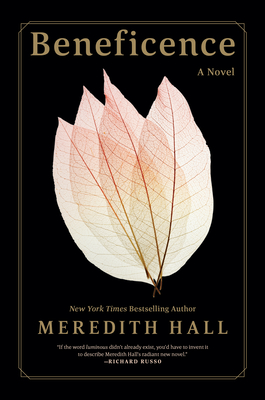 $25.95

NOT IN STOCK - Usually arrives in 7 - 14 business days
Description
---
"Beneficence is amazing in its vision. Luminous. With wisdom and compassion, Meredith Hall writes about the capacity for atonement. Beneficence, then. Goodness. Generosity to see deeply, to live through fear and pain on your journey toward the awareness of splendor."
--Ursula Hegi, New York Times bestselling author of Stones from the River, an Oprah's Book Club selection

A glorious debut novel by New York Times bestselling memoirist, Meredith Hall. In the years after World War II, the Senter family built an Eden-like life on their isolated dairy farm in rural Maine. When tragedy strikes, the close-knit family is shattered. Each must fight the isolation their own grief and guilt as they attempt to reclaim some semblance of their old life--if they can. Like the best work of Kent Haruf and Marilynne Robinson, Meredith Hall's Beneficence beautifully illuminates the effects of love and loss while exploring the meaning of family, and the possibilities of forgiveness, both of others and ourselves.