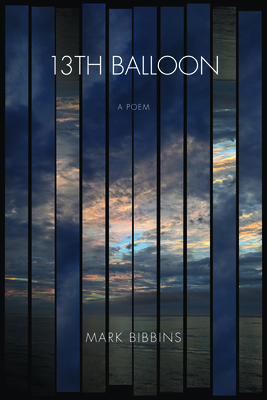 Staff Reviews
---
In his fourth book of poetry, Mark Bibbins documents the life of a close friend and their battle with AIDS during New York in the 1980's and 90's. Composed as one long poem, the work breaks in elegiac sequences, threaded with anecdotes both bleak and humorous. Bibbins references Mary Jo Bang's prize-winning collection ELEGY as a foundation for his own: "Come on stage and be yourself, / The elegist says to the dead." And we're soon immersed in the self of Bibbin's companion as lines unravel and sculpt a concrete grief. Consider the opening of the book, "As a house burns sparks / land on the roofs / of houses nearby / Some of them will also burn / Some of them will not." It is with this precision and at times deceptive plainness that powers 13TH BALLOON forward. A book meant to be read in one sitting. Surely to be one of the best of the year.
— From
13TH BALLOON (Mark Bibbins)
Description
---
O, The Oprah Magazine, "42 Best LGBTQ Books of 2020"

NPR's Favorite Books of 2020
In his fourth collection,
13th Balloon,
Mark Bibbins turns his candid eye to the American AIDS crisis. With quiet consideration and dark wit, Bibbins addresses the majority of his poems to Mark Crast, his friend and lover who died from AIDS at the early age of 25. Every broken line and startling linguistic turn grapples with the genre of elegy: what does it mean to experience personal loss, Bibbins seems to ask, amidst a greater societal tragedy? The answer is blurred-- amongst unforeseen disease, intolerance, and the intimate consequences of mismanaged power. Perhaps the most unanswerable question arrives when Bibbins writes, "For me elegy/ is like a Ouija planchette/ something I can barely touch/ as I try to make it/ say what I want it to say." And while we are still searching for the words that might begin an answer, Bibbins helps us understand that there is endless value in continuing--through both joy and grief--to wonder.
About the Author
---
Mark Bibbins was born in 1968 in Albany, New York. He earned an MFA in Creative Writing at the New School, and is the author of four books of poems, including They Don't Kill You Because They're Hungry, They Kill You Because They're Full, The Dance of No Hard Feelings, and Sky Lounge, which received a Lambda Literary Award. He teaches in the graduate writing programs at Columbia University and The New School, where he co-founded LIT magazine. In addition to teaching, Bibbins is the editor of the poetry section of The Awl, a web magazine. He lives in New York City.