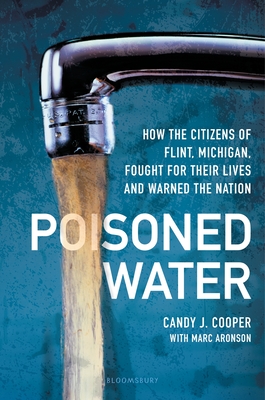 $18.99

NOT IN STOCK - Usually arrives in 7 - 14 business days
Description
---
Based on original reporting by a Pulitzer Prize finalist and an industry veteran, the first book for young adults about the Flint water crisis
In 2014, Flint, Michigan, was a cash-strapped city that had been built up, then abandoned by General Motors. As part of a plan to save money, government officials decided that Flint would temporarily switch its water supply from Lake Huron to the Flint River. Within months, many residents broke out in rashes. Then it got worse: children stopped growing. Some people were hospitalized with mysterious illnesses; others died. Citizens of Flint protested that the water was dangerous. Despite what seemed so apparent from the murky, foul-smelling liquid pouring from the city's faucets, officials refused to listen. They treated the people of Flint as the problem, not the water, which was actually poisoning thousands.
Through interviews with residents and intensive research into legal records and news accounts, journalist Candy J. Cooper, assisted by writer-editor Marc Aronson, reveals the true story of Flint. Poisoned Water shows not just how the crisis unfolded in 2014, but also the history of racism and segregation that led up to it, the beliefs and attitudes that fueled it, and how the people of Flint fought—and are still fighting—for clean water and healthy lives.
About the Author
---
Marc Aronson is an author, editor, publisher, speaker, historian, and book producer. Marc's mission is to inspire young people to ask questions, to look around, behind, and inside of the stories the world tells us. He writes a monthly column for School Library Journal on nonfiction for younger readers, and frequently speaks about boys and reading. Marc was awarded the Robert F. Sibert Award for the best in children's nonfiction for Sir Walter Ralegh and the Quest for El Dorado, and his books have been selected as a New York Times Notable Book and a School Library Journal best book. In 2006, he was given the ALAN Award by NCTE for service to teenagers, and was named the local spokesman for the History Channel's Save Our History program. He lives with his wife and two sons in Maplewood, New Jersey.
Praise For…
---
"Poignant . . . This detailed offering, the first specifically intended for young audiences, has multiple curriculum applications." —Booklist, starred review

"Thoroughly sourced and meticulously documented, this stomach-churning, blood-boiling, tear-jerking account synthesizes a city's herculean efforts to access safe, clean water. . . . This compulsively readable, must-buy narrative nonfiction serves as the ultimate antidote to civic complacence." —School Library Journal, starred review

"A careful, conscious encapsulation of a consequential U.S. frontier for renewed environmental justice activism." —Kirkus Reviews

"Flint citizens need fresh coverage that respects their activism rather than their victimhood. This becomes the controlling theme of this vivid account." —BCCB