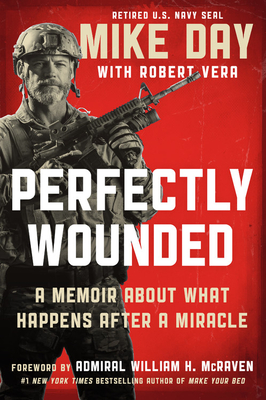 Description
---
The incredible true story of former Navy SEAL Mike Day, who survived being shot twenty-seven times while deployed in Iraq.
On the night of April 6, 2007, in Iraq's Anbar Province, Senior Chief Mike Day, his team of Navy SEALs, and a group of Iraqi scouts were on the hunt for a high-level al Qaeda cell. Day was the first to enter a 12x12 room where four terrorist leaders were waiting in ambush. When the gunfight was over, he took out all four terrorists in the room, but not before being shot twenty-seven times and hit with grenade shrapnel. Miraculously, Day cleared the rest of the house and rescued six women and children before walking out on his own to an awaiting helicopter, which flew him to safety.
While in the hospital, the Navy SEAL lost fifty-five pounds in two weeks. It took almost two years for Day to physically recover from his injuries, although he still deals with pain. Like so many veterans, doctors diagnosed Day with Post Traumatic Stress Disorder and Traumatic Brain Injury -- the invisible wounds of war.
Perfectly Wounded is the remarkable story of an American hero whose incredible survival defies explanation, and whose blessed life of service continues in the face of unimaginable odds.
About the Author
---
Senior Chief Petty Officer Mike Day proudly served twenty-one years and three months as a U.S. Navy SEAL. His military awards include the Navy Cross; two Bronze Stars, one with Valor; a Purple Heart; and a number of other accommodations. Day continues to lead and train other military Special Operations personnel and law enforcement professionals as a tactical training instructor. He is the founder of Warrior Tribe, a non-profit organization that provides resiliency programming for young people, veterans, and trauma survivors.

Robert Vera's first book, A Warrior's Faith, became a best-seller and earned the publishing industry's 2016 Illumination Silver Medal Award for Best Memoir. Prior to his writing career, he worked as a staff assistant to United States Senator Edward M. Kennedy, where he managed military and veteran constituent services and later became an investment banker. He is married with children and lives in Phoenix, Arizona, where he works as a professional author and speaker.
Praise For…
---
"A memoir that goes beyond war -- one that shares a story of awe-inspiring resiliency, courage, healing, and love on a thousand levels."—Major Scott A. Huesing, USMC (Ret.), bestselling Author of Echo in Ramadi

"PERFECTLY WOUNDED is an incredible story, perfectly told. Mike Day not only takes the reader inside the life of a Navy SEAL, he expertly takes the reader inside the mind of a trauma survivor, as well. He does this without darkness or foreboding, and capably illustrates the meaning behind my favorite sentence in the book: 'I have come to understand that if the experience of war does not profoundly alter you in some way, then you may actually have a problem.'"—Jason Kander, New York Times bestselling author of Outside the Wire

"Mike Day is the living embodiment of the American fighting spirit, a true warrior who exemplifies intestinal fortitude, drive, and compassion. This book is a genuine display of the kind of 'never quit, no matter the odds' attitude that simply cannot be taught. PERFECTLY WOUNDED is the story of an American hero who always stayed in the fight, no matter what was thrown at him."—D. McBurnett, US Navy SEAL (Ret.), author of Uncommon Grit: A Photographic Journey Through Navy SEAL Training

"Senior Chief Petty Officer Mike Day's battlefield incident showed tremendous courage, epitomizing the warrior ethos, but his real story of strength, honor, and bravery comes after his incident in the Anbar Province of Iraq. His tremendous intestinal fortitude and resiliency to not only overcome his serious injuries, but to then go on advocating the power of resiliency to those who need it most, is remarkable to say the least. He made the Special Operations Community proud by his actions on April 6th, 2007, but his ability to heal and his continued altruistic actions since that day should make all who live in this great nation even prouder."—Kris "Tanto" Paronto, 2nd Battalion, 75th Ranger Regiment, bestselling author of The Patriot's Creed

"Inspiring...Readers interested in care programs for returning veterans will find Day's account invaluable."—Kirkus (Starred Review)

"Mike Day is a walking miracle."—CBN News