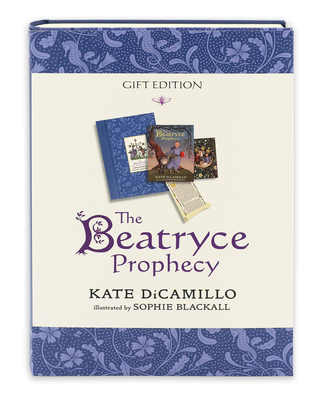 Description
---
This collector's edition of The Beatryce Prophecy, packaged in a keepsake box with a ribbon enclosure, includes an exclusive full-color piece of artwork, as well as a special beautifully decorated scroll with a story written by two-time Newbery Medalist Kate DiCamillo and illustrated in full color by two-time Caldecott Medalist Sophie Blackall.

In a time of war, a mysterious child appears at the monastery of the Order of the Chronicles of Sorrowing. Gentle Brother Edik finds the girl, Beatryce, curled in a stall, wracked with fever, coated in dirt and blood, and holding fast to the ear of Answelica the goat. As the monk nurses Beatryce to health, he uncovers her dangerous secret, one that imperils them all—for the king of the land seeks just such a girl, and Brother Edik, who penned the prophecy himself, knows why.

And so it is that a girl with a head full of stories—powerful tales-within-the-tale of queens and kings, mermaids and wolves—ventures into a dark wood in search of the castle of one who wishes her dead. But Beatryce knows that, should she lose her way, those who love her—a wild-eyed monk, a man who had once been king, a boy with a terrible sword, and a goat with a head as hard as stone—will never give up searching for her, and to know this is to know everything. With its timeless themes, unforgettable cast, and magical medieval setting, Kate DiCamillo's lyrical tale, paired with resonant black-and-white illustrations by Caldecott Medalist Sophie Blackall, is a true collaboration between masters.
About the Author
---
Kate DiCamillo is one of America's most revered storytellers. She is a former National Ambassador for Young People's Literature and a two-time Newbery Medalist. Born in Philadelphia, she grew up in Florida and now lives in Minneapolis.

Sophie Blackall is the acclaimed illustrator of more than forty-five books for young readers and a two-time Caldecott Medalist. Born and raised in Australia, she now lives in Brooklyn.