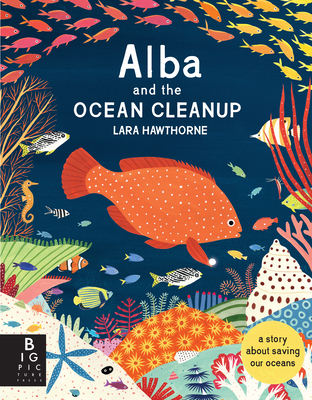 Description
---
Alba the fish has spent her entire life collecting precious objects that drift down to the ocean floor. From delicate shells to brightly colored coral, each year on her birthday she gathers one more precious item. But over the years, Alba notices her collection is losing its sparkle and that the world is changing. There is trash everywhere! When, on her birthday hunt, something unthinkable happens, it seems like the plastic may have changed her ocean home forever. Is it too late?

Alba and the Ocean Cleanup is a beautifully illustrated picture book about what we can do to save this important ecosystem.
About the Author
---
Fresh new talent Lara Hawthorne graduated from Falmouth University in 2013. She is the author-illustrator of The Night Flower: The Blooming of the Saguaro Cactus and the illustrator of Carol Ann Duffy's The King of Christmas. Inspired by nature, myths, and legends, she creates wonderful small worlds with her distinct watercolor style. She lives in Bristol, in the U.K.
Praise For…
---
When a reef fish becomes stuck in a plastic bottle, a caring human child not only rescues her, but also organizes an ocean cleanup...the simple story and bright pictures underscore the importance of taking care of our ocean.
—Kirkus Reviews

Appealing hopefulness infuses the implausible tale of Alba, an orange fish who lives in a reef where "shimmering fish darted and dived, and strange creatures scuttled into hidden places."...Closing spreads identify animals in the reef and ways to take care of the ocean.
—Publishers Weekly