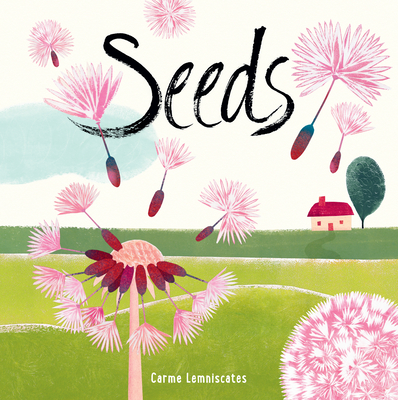 Description
---
Striking illustrations and a simple narrative celebrate the potential of seeds, literal and metaphorical.

Some seeds are whisked away by the wind, while others are carried by creatures to their destinations. Once seeds find their spot, they go through breathtaking transformations, multiplying in number and size and thriving in even the most unseemly places. We humans plant seeds, too, and with care we can cultivate and nurture something wonderful, whether by sowing a seed in the earth or by choosing our own seeds of kindness to spread around. With gorgeous, welcoming illustrations, the creator of Trees and Birds presents another ode to the beauty around and within us.
About the Author
---
Carme Lemniscates is the author-illustrator of Trees, Birds, and Seeds as well as the illustrator of Hilary Rodham Clinton and Chelsea Clinton's Grandma's Gardens. In addition to children's books, she also creates storybook apps. Based in Barcelona, she is particularly interested in books that encourage creative thinking and curiosity about subjects such as nature, the environment, friendship, fear, and self-acceptance.
Praise For…
---
Lemniscates considers seeds, both as tiny biological powerhouses and metaphors for human potential.
—Kirkus Reviews

The illustrations showcase the narrative theme in a powerful way and provide a sense of movement. ­Lemniscates's story highlights the expansive possibilities contained within both literal and figurative seeds. A good purchase for all ­libraries.
—School Library Journal

The text is straightforward and accessible: "Pumpkin seeds bring pumpkins: kindness seeds bring kindness." Never preachy, the overall tone is just right and complements Lemniscates' two previous offerings on birds and trees. This will make a great read-aloud, whether for introducing spring flowers or initiating conversations about friendship.
—Booklist

Crisp, colorful mixed-media illustrations keep pace with the text, showing moments such as a tiny seed germinating into a resplendent orchid and gardening children resolving their differences. Lemniscates's canny tale holds an appealing message: "Seeds can only bring what they carry./ Pumpkin seeds bring pumpkins; kindness seeds bring kindness.// You have lots of seeds, and you get to decide.../ which ones to help grow."
—Publishers Weekly