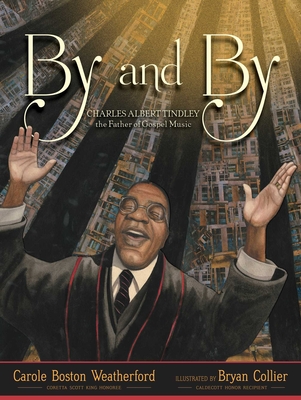 Description
---
A stirring picture book biography from award-winning duo Carole Boston Weatherford and Bryan Collier, about gospel composer and preacher Charles Albert Tindley, best known for the gospel hymn "We'll Understand It Better By and By."

At a time when most African Americans were still enslaved, Charles Tindley was born free. His childhood was far from easy, with backbreaking hours in the fields, and no opportunity to go to school. But the spirituals he heard as he worked made him long to know how to read the Gospel for himself. Late at night, he taught himself to read from scraps of newspapers. From those small scraps, young Charles raised himself to become a founding father of American gospel music whose hymn was the basis for the Civil Rights anthem "We Shall Overcome."

Told in lilting verse with snippets of spirituals and Tindley's own hymns woven throughout, Carole Boston Weatherford's lyrical words and Bryan Collier's luminous pictures celebrate a man whose music and conviction has inspired countless lives.
About the Author
---
Carole Boston Weatherford has written many award-winning books for children, including Caldecott Honor winners Freedom in Congo Square; Voice of Freedom: Fannie Lou Hamer, Spirit of the Civil Rights Movement; and Moses: When Harriet Tubman Led Her People to Freedom. Her recent books include By and By, The Roots of Rap, Be a King, How Sweet the Sound, In Your Hands, and The Legendary Miss Lena Horne. Carole lives in North Carolina. Visit her at CBWeatherford.com.

Bryan Collier is a beloved illustrator known for his unique style combining watercolor and detailed collage. He is a four-time Caldecott Honor recipient for Trombone Shorty, Dave the Potter, Martin's Big Words, and Rosa. His books have won many other awards as well, including six Coretta Scott King Illustrator Awards. His recent books include By and By, Thurgood, The Five O'Clock Band, and Between the Lines. He lives in New York with his family.
Praise For…
---
* "Simply written, evocative text . . . expressive watercolor-and-collage artwork . . . This picture book conveys that Tindley lived his life with purpose and left a lasting legacy of faith expressed through gospel music."
— Booklist, starred review

"Weatherford tells Tindley's story in rhyming verse that captures his drive for spiritual growth, service, and musical expression. Collier's strong, vivid watercolor-and-collage illustrations enhance the text and visually depict the various facets of Tindley's life. . . . A lively salute to an important, influential life of music and service."
— Kirkus Reviews

"Weatherford's couplets thrum like drumbeats, and they're interwoven with italicized lines from songs (identified in end matter as coming from spirituals that inspired Tindley and hymns he himself wrote). . . . A sonorous readaloud."
— BCCB

"Weatherford's first-person, somewhat singsong-y rhyming narrative includes italicized lines from Tindley's hymns (some of which also appear in the art), further emphasizing the preacher's foundation in his faith. Collier's watercolor and collage images beautifully reflect the man's life and times, from the wide expanse of emerald-hued fields in which Tindley labored as a child and the bright blue sky above, to luminous, larger-than-life portraits of him orating as an adult."
— The Horn Book

"This beautiful volume will make an excellent addition to biography collections and broaden available resources for black history studies in elementary and middle school classrooms."
— School Library Journal

"Weatherford weaves the words of hymns the figure wrote into lines that describe his slow, steady rise . . . until he became pastor of an urban church with 15,000 parishioners and wrote dozens of hymns for them to sing. Collier creates one compelling watercolor and collage spread after another, from a view of the small boy shadowed by tall trees as he trudges to church to congregants joined in song with Tindley at the pulpit. . . . Weatherford artfully champions Tindley's achievements, and Collier portrays both the man and his life events with memorable visual power."
— Publishers Weekly